How Small & Medium-Sized Businesses Can Survive and Thrive in The Post-Coronavirus Environment
Introduction
It goes without saying that businesses around the world have experienced unexpected and immediate disruption since the outbreak of the coronavirus. Remote work and video conferencing have boomed, business travel has taken a dramatic hit, and individuals and businesses – especially those considered essential – have aggressively pursued hygiene, as per the CDC's guidelines. Small and medium-sized businesses (SMBs) especially have faced intense pressure and uncertainty, as many have had to cease some or all operations.
As expected, many SMB leaders are focused on managing the challenges of the present moment: how to keep their employees and customers healthy and safe, and how to help their business make it out on the other side of this pandemic. The businesses that will sustain growth over the long-term, though, are the ones that are simultaneously planning for the future. When the quarantine ends, businesses open back up, and people return to their offices, life will be anything from "business as usual." The coronavirus has caused discontinuities in business that may have long-lasting effects, which SMBs need to start considering and acting on now in order to create and sustain long-term growth. 
The purpose of this piece is to provide recommendations on how to formulate an action plan, with both immediate and long-term tactics, to help you position your business to be even stronger and more competitive in the weeks, months, and even years following this pandemic. It's certainly a daunting time, but remember: many small businesses (perhaps even yours) survived the Great Recession against seemingly insurmountable odds; with the right tools and a thoughtful approach, you can survive this, too.
Summary of Key Recommendations
Liquidity will be critical for small and medium-sized businesses (SMBs) to survive; the key to recovery, however, will be maintaining customer relationships with high priority customers who account for 80-90 percent of sales and margins. Most companies will have to cut costs – especially fixed costs – but they have to protect the base. Make sure you take advantage of any government loans or grants for which you are eligible.

Companies must not only follow health and safety regulatory guidelines, but proactively communicate safety "as a differentiator" to employees and customers, making workplaces as safe as possible.

Employees are anxious right now, so open communication and transparency is critical. Business leaders must communicate policies and expectations around the 'new normal,' including health and safety, office policies, social gatherings, and working from home. Employers should enable flexibility, understanding that employees have unique circumstances, and should keep morale up to reduce employee turnover.

Continue to invest in marketing and sales. Communicate with customers and prospects through the transition to the "new normal" across multiple channels. You may need to update your team's technology capabilities and skills.

Several discontinuities have started to emerge and these will drive new products and services, new business models, and other innovations. Innovative companies who see these discontinuities as opportunities will adapt to change, transform themselves, and come out of this crisis even stronger. These discontinuities include:

Consumers now have a greater focus on health, cleanliness, and personal protection.

Employees want to enhance their remote work environment.

The online world is exploding for all types of businesses (both B2B and B2C) with online ordering, home delivery, home entertainment, virtual sales interactions, customer meetings, and events.

Unfortunately, some smaller competitors will go out of business, which will create partnership or M&A opportunities for the survivors.

Supply chains are being disrupted and may have to be rebuilt (especially those that are international). Domestic manufacturing and simpler supply chains may emerge.

Governments and multiple world forums will debate the steps to be taken, resulting in more opportunities.

Post-recovery,  there is a reasonable probability that the coronavirus may return and last for several years. Leaders should plan accordingly:


Prioritize critical products and services, as well as critical functions. Protect the "things you do as well as or better than competition" and what made you successful in the first place.

Speak regularly to customers, suppliers, investors, lenders, partners and local officials to continually keep a pulse on the market. 

Learn how to be flexible and agile to meet the challenges that arise. There are simple frameworks on thinking about a business and prioritizing your efforts. Contingency planning with alternatives accounted for will enable a quick response to whatever may happen in the future.

Use the opportunities created to "Reinvent, Redesign and Regenerate your Businesses."  
Part 1: Emerging Discontinuities Will Provide Opportunities
Before we dive into the short- and long-term tactics to pursue as you navigate the current and future impact of the coronavirus, it's important to first address the discontinuities that are emerging and the opportunities they present.
Consumers have a heightened focus on health, cleanliness, and protection, and they'll be willing to pay more to ensure this.
The effects that the coronavirus has had on how we operate our day-to-day lives will likely persist after this pandemic, since the virus could flare up again. This will impact our home life, work environments, and social settings, as well as the products and services we consume in those places. 
Consumers will continue to spend more time at home and will have a greater focus on improving their home environment.
Even when the government lifts stay-at-home orders and the economy dials back up, it will take time for consumers to readjust. A Harvard study showed that social distancing may be needed until 2022. More time at home will result in a greater focus on improving the home environment and activities like home delivery, home entertainment, Internet use, etc. 
Online transactions are exploding.
There has been a major uptick in online sales on Amazon and other online retailers and delivery services. Research shows this trend will likely continue when the pandemic ends. Customers – especially younger generations – will look for clean, easy-to-navigate websites. For B2B, companies will look for vendors who can seamlessly sell, invoice, and hold meetings online as remote work continues. Many companies will need to deepen their digital footprint, grow their online capabilities, and train up their employees.
How companies operate and conduct business is changing.
Even when this pandemic ends, many companies or individual employees may continue working from home depending on their circumstances. This will require certain technical capabilities to optimize work from home environments. Internal meetings – and even important B2B prospect meetings – may occur online. Teams will need to be proficient in Zoom, Slack, and other video/messenger apps. 
Supply chains are being disrupted. 
Smaller companies have shut down operations and over a third may not survive. Imports are stalling, especially from China. There is increased discussion on domestic manufacturing of "essential supplies." According to McKinsey, "Actions taken now to mitigate impact on supply chains can also build resilience against future shocks." It is necessary to granularly review bills of materials (BOMs) and catalog components and products needed by service companies, to identify what is at risk. Remember, when your business opens back up, some of your vendors may not. You will need to look for alternatives, some of which may require cash upfront.
Smaller competitors will continue to go out of business due to poor cash flow; this could result in new opportunities.
This is an unfortunate reality to face, and companies still in business will seize it as an opportunity to gain market share. Or, they'll consider partnerships, mergers, or acquisitions. Even direct competitors may combine operations to stay in business. Types of relationships that would have been unfathomable in February of 2020 may become a reality a few short months later. These new relationships will not necessarily be a cash-only basis, but take many forms such as equity, commission only, or part cash/part stock part commission. 
These discontinuities can serve as the foundation of short- and long-term action plans for SMBs, as detailed below.
Part 2: Immediate Actions SMBs Should Take
Aggressively pursue loans, grants and investments. 
Work with your bank and investors, but don't forget other sources. Hedge funds, private equity firms and big investors have hundreds of billions of dollars sitting in reserve. However, anticipate that the cost of capital and availability of private loans may pose more challenges as a result of this global shift. 
Take health precautions seriously. 
Be obsessive about hygiene, health, and safety.
Ensure social distancing at the office, especially for those who are at the greatest risk for contracting the virus. 

Have masks, gloves, hand sanitizers, and antibacterial wipes in your common area and near employee desks.

Follow the health and safety tips from the CDC.

Appoint a member of your team to help communicate these guidelines and ensure all individuals are following them.

Proactively communicate your health and safety measures to the general public (on your website, via email, and on social media). Consider doing 'more than the minimum required' as many customers and consumers will be weary, even if they don't communicate it. 
Allow sick employees to stay home.
Previously – especially in the United States – there has been a 'hero' mentality about working while sick. This will likely change post-coronavirus, especially since many employees have found success working remotely.
Employers should clearly communicate that anyone with symptoms should work from home (no questions asked and no doctor's note required). According to the CDC, employees should stay home until they are free of any symptoms or fever for at least 24 hours. If working from home is not an option for your business (i.e. food service), be sure to implement appropriate cleaning procedures at your business location. Be clear with employees regarding your coronavirus policies and safety protocol. 
Even if your employees are healthy, ask them to inform you if one of their family members is sick. You can refer to the CDC's guidelines for appropriate risk assessment.
Enable remote work capabilities. 
Until we are far past this pandemic, offer employees the option to continue working from home if they wish to (and require it for those who are not feeling well, as mentioned above). This pandemic may have a long-term impact for many people, so be mindful of different circumstances and understand employees may need more flexibility than in the past. Whether your entire team is still working remotely or just a few of them, here are recommendations on how to optimize their remote work environment: 
Allow employees to expense materials/items that will enable efficiency and productivity (office supplies, a second monitor, etc)

Implement a policy that outlines when you expect your team to be online and available when working remotely, and standardize the preferred method of communication (email, Slack, Zoom, etc.). Be sure to still allow flexibility, depending on individual needs and circumstances. 

Ensure that all weekly/regular in-person meetings remain on the calendar as video meetings if your team is not in the office. This will be necessary to ensure deadlines are still met.

Instruct employees to redirect calls to their office line to their cell phones.

Schedule a weekly team gathering via Zoom to boost morale. 
Give employees more flexibility in general. 
When offices, schools, daycares, businesses, and other commercial settings reopen, it won't all happen at once. Employees may have unique circumstances (care for family members, nontraditional family needs, etc), which will require flexibility with their time and how they operate. Try to be as understanding as possible when something comes up and have a contingency plan in case you suddenly become short-staffed.
Reduce meetings and travel. 
Minimize opportunities for exposure to the virus. Postpone team meetings or hold them virtually. Skip non-essential conferences or other business travel. If your workers get sick because of business travel or meetings, you could have a liability issue on your hands, in addition to managing low morale and increased sick leave requests.
Do realistic accounting. 
Most businesses are suffering and need to make hard decisions. Try to form realistic estimates of your cash flow both during and after the pandemic. Compare this with your fixed expenses and determine what you can cut. Sometimes, it makes sense to cut the more flexible expenses early while you continue paying the more vital expenses. 
Additionally, identify expenses that you can delay, such as rent (if eviction has been frozen), leverage public assistance and other ways of bridging the gap, and consider cutting office space if you can. 
Stay informed on updates in your area. 
We don't yet know the full impact of the coronavirus in the United States, but the CDC has said that your risk varies based on your location. Therefore, each state, or even metro-area/county, will continue making decisions based on unique circumstances. Stay in frequent contact with state and local officials for updated guidance and policy recommendations affecting your community. 
Communicate with your employees. 
Even when your business resumes full operations and employees return to the office, it's likely that employees will continue to have concerns about their health, their family's health, and their job security. Listen to their concerns. Keep them informed on the state of your business and update them on any policy changes (in-person if you're in the office, via email, your Intranet if you have one, or even a recorded video message to add a personal touch). Honest, frequent communication will help mitigate fear, prevent the spread of misinformation, and boost morale (your employees may also be able to help identify gaps in your coronavirus plan and make improvements). Importantly, always communicate with empathy. 
Be smarter about your marketing. 
Now is not the time to cancel your marketing, whether you're a big company or a small company (or somewhere in between). Customer interactions with your brand and business transactions will continue to occur virtually. Therefore, without digital marketing, you'll lose the most important part of your business: the customer relationship. Pivot your marketing strategy from overt lead generation tactics to providing value to prospects and customers during this difficult time and fostering community. 
Communicate with your customers. If all or part of your business closed down due to the coronavirus, ensure your customers know when you've opened back up, and make them aware of the precautions you're taking to protect them and your workers. Be more proactive about communicating your health and safety policies online and in-person.

Ensure your website is easy to use. Stay responsive via chatbots, email, and phone numbers.  For B2B especially, enable interactivity, information-gathering, and invoice capabilities on your website. For B2C, make purchases, returns, and access to customer service as easy as possible for customers. 

Continue to create content for your audience that brings them value and resonates with their pain points during this difficult time (i.e. blogs, white papers, infographics, etc). House this content in one place on your website.

Use email marketing to keep customers up-to-date on your business, distribute content, and maintain connections with current and prospective customers. Consider these dos and don'ts when communicating with them.

Optimize your website for SEO, because organic search rankings will be even more important as consumers rely heavily on the Internet to find what they need. More on how to analyze your SEO: "Keep Calm & Market On: 3 Marketing Tactics to Do During a Crisis." 
Adjust your selling strategy to accommodate remote work and social distancing. 
Prioritize virtual contact with current and potential customers, and make sure they're aware that even if your store is closed, you're still available to service them. For B2B companies, consider account-based marketing, where you build relationships with multiple individuals at specific organizations. 

Maximize the use of LinkedIn as a relationship building and selling tool. With over 260 million monthly active users, it has become the platform for value-added thought leadership. Sales teams that previously relied on in-person interactions will need to be retrained on virtual relationship-building.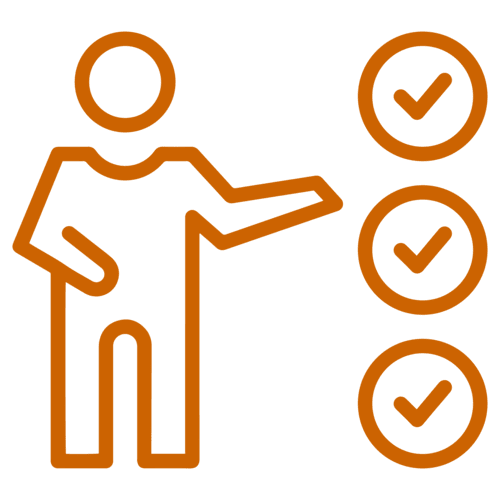 Part 3: Long-Term Priorities SMBs Should Consider
Prioritize critical operations. 
Long after the quarantine ends and companies open back up, it won't be "business as usual," especially for SMBs. A MetLife & U.S. Chamber of Commerce Small Business survey indicated that nearly half of small businesses (46 percent) believe it will take the U.S. economy six months to a year to return to "normal." Prioritizing and protecting critical operations and processes will be necessary to keep your business moving. Here are suggested ways to do this:
Develop a plan on how to meet key business functions in the event that critical staff members are unable to work.

Cross-train multiple employees so that multiple people know how to perform key functions.

Be prepared to make adjustments as you go, such as using alternative suppliers or putting certain operations on hold.

If you operate in multiple locations, give local managers the authority to make operations decisions based on the circumstances in their area.

Protect your core competences (the things that made you successful in the first place and areas where you are as good as or better than competitors). These could include technical capabilities, trade secrets, key employees, and/or exceptional business processes.

Have a plan in place for how you'll prioritize your biggest customers (those who make up 80-90 percent of your business.)
Protect your supply chain and consider other vendors if needed.
SmallBizTrends reported that 30 percent of businesses expect the coronavirus to have a moderate to high impact on their supply chain. Speak to your suppliers, investors, partners, and local officials regularly to learn how you can begin implementing safeguards that will help you stay above the red until some level of stability returns.
 Also recognize that when your business reopens, the vendors in your supply chain may not. You may need to find new vendors, some of whom may require cash-on-delivery. It can take time and effort to build a new supply chain.
Continue to enhance your online presence.
Build a content strategy. Determine the topics for which you want to be a known thought leader, and develop a calendar to help you develop regular content (blogs, eBooks, infographics, videos, employee profiles, etc). Promote this content through email, social media, and industry-related publications.

Use email and social media as a way to create an online community and a sense of belonging for your customers, and ultimately increase the number of people talking about you and your brand.

Create a customer portal to enhance customer engagement and create a safe space for users to connect, support one another, and ask questions.

Shift your budget from in-person conferences to virtual events (i.e. webinars).
Innovate: rethink your business approach as customer needs continue to change 
Your long-term viability depends on understanding (and even predicting) how your customers' needs will change. Most of their lives are different today, and will likely be different again in six months. People are building new habits, some of which will persist. There will be more take-out, more online selling, different forms of entertainment, a new emphasis on hygiene, etc. Talk to your customers – perhaps through a survey – to better understand them.
Based on these changes, how might your business model need to change? Can you modify your offering to accommodate new customer needs? Focus on your existing customers by proactively showing support, providing excellent service, and maintaining relationships. Also, consider new ways to deliver your service or product (think home delivery, mail, or virtual web-based services). As you think about this, it's helpful to break your business down into three parts (see graphic below). Remember that these should build on your core competences: "the things you do as well as or better than competition," and what made you successful in the first place.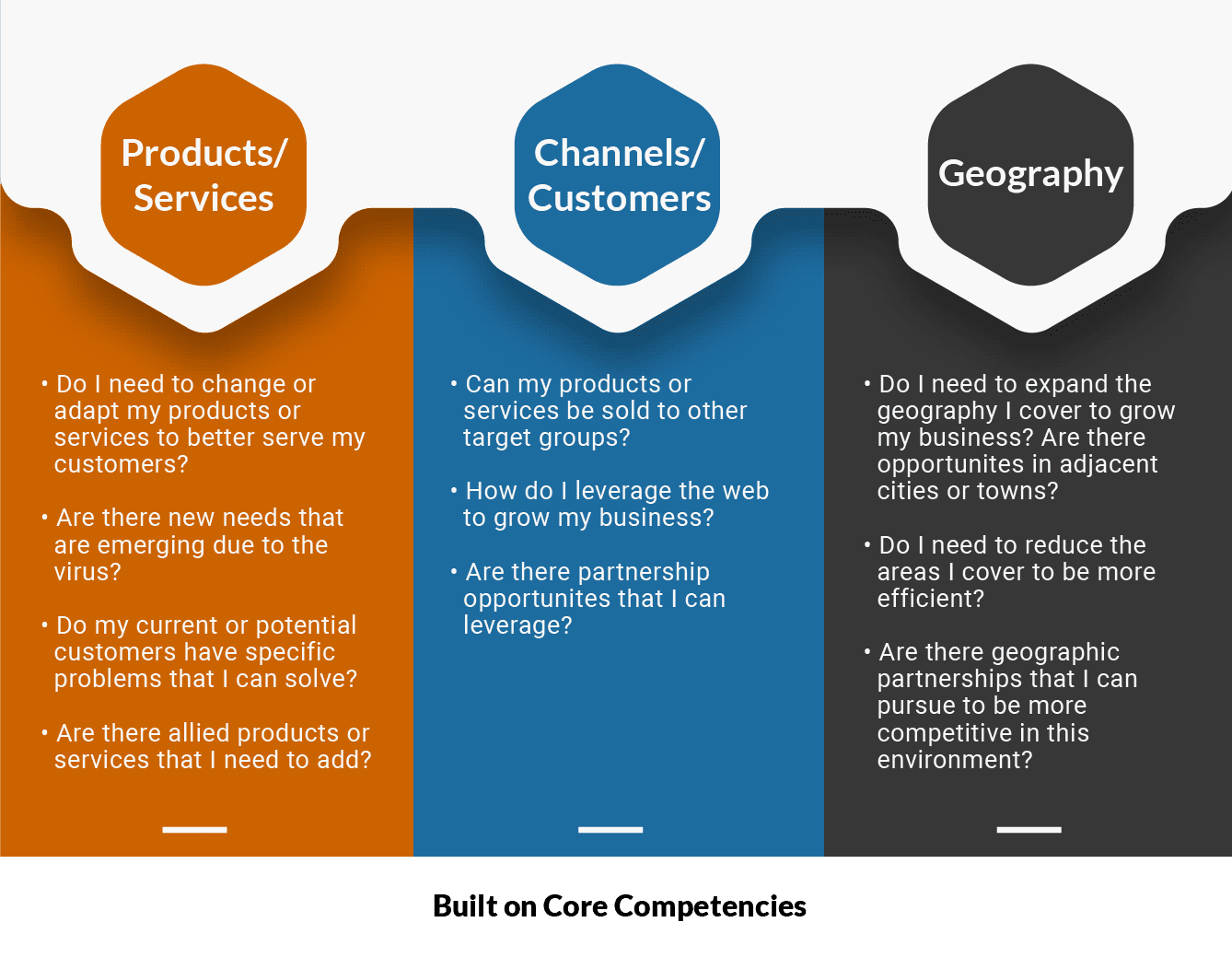 Expect that new partnerships will emerge. 
Smaller businesses in a similar industry (even competitors) who are feeling pressure may partner or merge. This may not necessarily require large cash outlays. Consider combining operations to:
Improve your efficiency

Grow your customer list

Add to your supply chain

Give you access to more geographies
Conclusion
Ultimately, there is no universal, one-size-fits-all solution for small and medium-sized businesses during and after this crisis. The plan you implement and the actions you take should account for your company's unique circumstances and idiosyncrasies. However, we're confident that what we've outlined here can serve as a valuable guide as you continue to navigate this difficult time. 
Are you wondering how you can personalize and prioritize these immediate and long-term actions for your business? We're here to help and have the resources and expertise to provide counsel on the full picture of your business. Please contact us here. 
If you're looking specifically for more guidance on how to pivot your marketing strategy to build and sustain long-term growth when this pandemic ends, contact us for an initial marketing analysis. We will conduct an unbiased assessment of your current marketing tactics – including SEO, web, content, and social media – and determine how we'd recommend you proceed post-coronavirus. 
We wish you, your team, and your business good health!
About the Author
As the founder and Managing Director of &Marketing, Rajat "Raj" Kapur strives to provide growing businesses of all sizes unparalleled marketing strategy and execution services. Raj brings nearly two decades of professional experience in marketing, sales, and strategy development experience spanning B2B and B2C Fortune 50, mid-sized, and startups.
About &Marketing
In today's fast paced world, many growing businesses are struggling to modernize their marketing approaches because either they don't have the expertise or the bandwidth to do it themselves.
&Marketing provides seasoned marketing strategy professionals and a nimble execution team to help our clients achieve their goals. Our unique partnership model allows us to augment our client's existing teams or outsource the entire marketing function in an affordable, flexible, and transparent way.