What Is A Fractional CMO? How Much Is A Fractional CMO?
Are you ready to accelerate your company's growth to the next level? Do you need to increase awareness and inspire prospects to try your products or services? Do you need a highly experienced marketing leader to bring a fresh perspective? That is why we created &Marketing+ with its Fractional CMO service. This may be the right answer for you – at a fraction of the cost of a full-time in-house team.
What Is A Fractional CMO?
You may have seen the term before and wondered, "what is a Fractional CMO?" A Fractional CMO is a senior marketing executive retained part-time to provide executive-level leadership. An fCMO offers proven skills and capabilities paired with repeatable marketing processes at a fraction of the cost of a full-time hire.
How Much Is A Fractional CMO?
Hiring a top chief marketing executive in the United States costs upwards of $300K per year, plus bonuses and benefits. &Marketing's Fractional CMOs offer a high level of expertise at a fraction of the cost. Additionally, we provide access to our team of digital marketing experts. Your fractional marketing team will include the CMO, a Marketing Manager, and the subject matter experts needed to create and execute your digital marketing plan. With us, you can get a full team without going through a lengthy and expensive search and hire process. Instead, you can use the money you save to develop marketing programs and initiatives.
This may be an ideal way to get started. When you are ready to hire full-time people, you will have processes in place, and we will be able to help you transition by developing the organizational structure that is right for you and helping you hire the right people. This transition, for &Marketing, is a sign that we have been successful.
Who Can Benefit From a Fractional CMO?
Many companies across industries, from start-ups to the middle market, can benefit from quickly onboarding a marketing leader and an execution team. With &Marketing+, they can do it without incurring the tremendous costs and risks associated with searching, training, and ramp-up time that a full-time in-house Marketing Department would take.
You will benefit from this arrangement if some of the following characteristics apply to you:
You want to accelerate your growth to get to the next level, which includes executive-level guidance and nimble execution capabilities.
You need an independent, outside perspective on your business, marketing strategy, and commercial tactics.
Your growth has stagnated, and you have a strong desire to grow your business.
You've never invested in marketing (and don't know where to start) but are curious how an investment could change the trajectory of your business.
You need to hit the ground running but do not have the time or budget to hire a full in-house team.
You are spending time and money on marketing that is not cohesive or effective.
You are planning to launch more products and services or grow with new types of customers.
This is ideal for start-ups or scale-ups with funding in place to provide customer or market perspective, usually at the time of a Series A. A Fractional Chief Marketing Officer is also ideal for middle-market companies which have never seriously invested in marketing.
For more established companies, a Fractional CMO and team can bring incredible value when launching a new product or service, especially when having a full-time CMO wouldn't make fiscal or practical sense.
Do you think that you can benefit from a Fractional marketing team? Contact us with any questions and see if there is a good fit.
Our Fractional CMOs Are Here To Help You Succeed
Our approach allows you to tap into the services of subject matter experts and digital marketing teams who bring unique and diverse strategies to the table. They have the knowledge and experience of leading several marketing teams to drive the results your company needs. They have done it before, many times.
&Marketing's Team and Fractional CMOs can provide you, and the rest of your team, with a deeper understanding of your market and its dynamics, key segments, your primary and secondary competition, and, most importantly, an in-depth understanding of your current and potential customers.
The team will take ownership of your company's marketing programs and help ensure that your company properly implements everything from digital marketing to analytics.
We combine the development of a robust marketing strategy with complete execution so that you have just one point of responsibility. Services include:
Being the marketing leader on your management team
Developing a deep understanding of your market dynamics, competition, and customers
Developing a robust marketing strategy
Driving positioning that is "true, distinct, and compelling"
Building content that "informs, inspires, and excites"
Strengthening branding and building your brand image
Driving product pricing and the launch of new products/services
Optimizing and improving your online and media presence, deploying SEO, Account Based Marketing, PR, etc.
Preparing marketing material for your sales force and working closely with them to convert qualified leads
Creating customer retention and loyalty programs
Our Fractional CMOs Are Process & ROI-Driven
Our Fractional CMOs and teams are process-driven to enable you to scale up – ensuring you have the proper guardrails and strategic oversight to meet your long-term growth needs. Our brand building, lead generation, and conversion processes are outlined below.
The Fractional CMOs will lead, manage, and deliver a return on your investment:
The Fractional CMO will manage the day-to-day function of the marketing team.
They will work closely with your leadership team and other stakeholders such as the CEOs, CSO, VPs, the Board, and sales force.
They will deliver ROI to make sure that it makes sense to continue to invest (or not invest) in each area of the marketing program.
This works because the Fractional CMO and team are highly experienced; they have done it before. They have seen the ups and downs and are equipped to effectively manage marketing departments and work closely with the entire team. They are trained to focus on results and help the company to scale.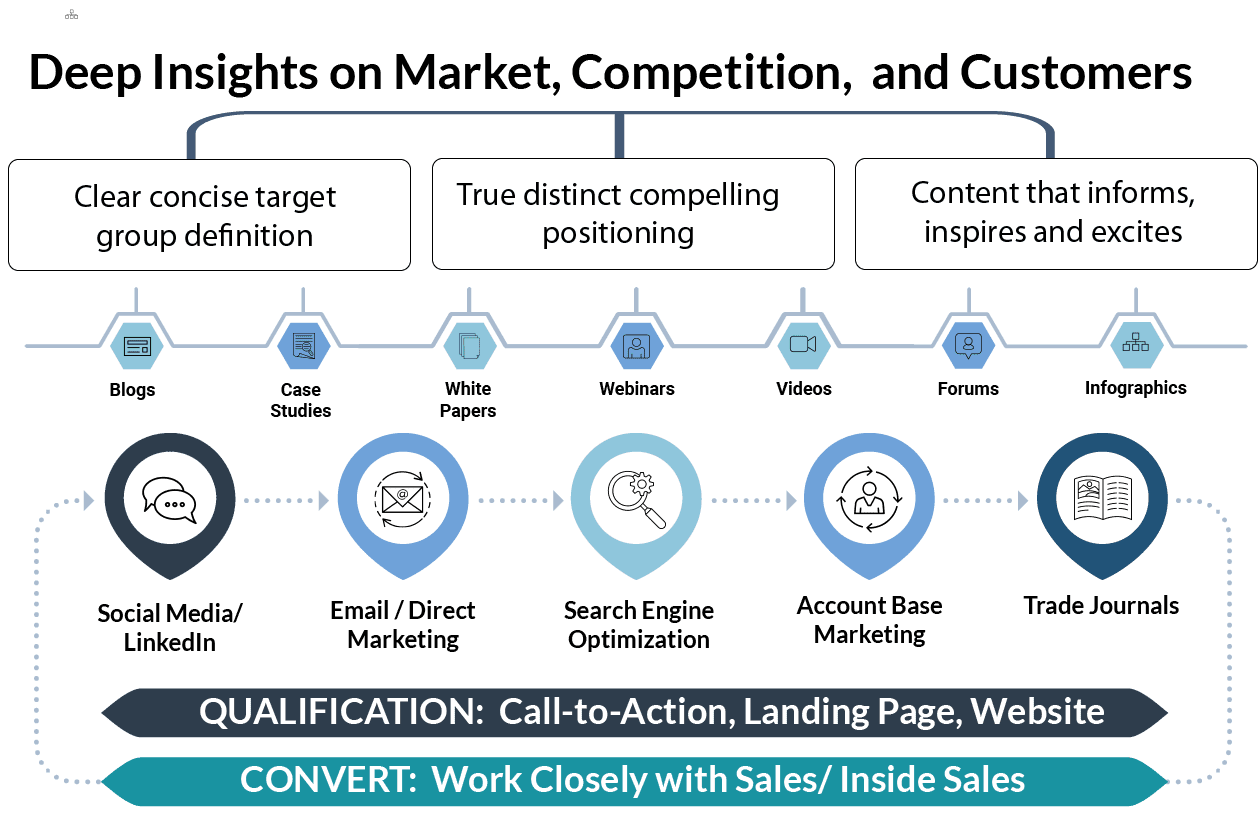 Is A Fractional CMO Right For You?
Good marketing builds your brand, creates awareness, generates leads, attracts new customers, and accelerates your growth. Finding a way to do the absolute best marketing you can is critical, especially when times are tight. Hiring a Fractional CMO with a solid execution team may be a smart way to go. Contact us today to start driving growth with a Fractional CMO.
About &Marketing
&Marketing provides the robust outsourced marketing department growing companies need without the high overhead costs of big agencies or full-time employees. Our variable model empowers businesses to reach their growth goals through access to the guidance and expertise of senior level strategists and a flexible execution team.
Are you facing challenges of your own in generating leads and meeting your business' growth goals?
We'd love to learn more about your challenges and how a coordinated marketing approach might help take your organization to the next level.