Your 2020 Marketing Planning And Execution Guide
Most growing businesses are asking themselves the same question: Are we ready for 2020? The answer to the question depends on what your unique organization is hoping to accomplish next year. How will you plan your goals and set up a strategy to execute them?
Marketing planning and execution can be a challenge for companies of any size, but it can often be particularly daunting for growing businesses. Chances are, you might be struggling to strategize and map out what the coming year or even the next quarter should look like. If you do have an awesome plan in place, maybe you're not quite sure what the execution part looks like. Why is this? More often than not, it all comes down to resources. Modern marketing departments often need up to 10 distinct roles, so having the bodies to staff a full marketing team is not always feasible. But, do not be discouraged. By taking it one step a time, and having the right tool, you'll be on your way to setting yourself up for success in 2020. Let's start by going back to the basics.
What Does Success Look Like For You?
When it comes to marketing no one size fits all approach should be taken because there's something about every growing business that's truly unique. However, the first step you should always consider is developing your marketing framework. Start by zeroing in on what your long-term success vision is. A success vision will help you narrow your focus. In his Inc.com article "Creating a Company Vision," Ari Weinzweig, founder of Zimmerman's, explains it well:
"It's not as mystical or out there as it sounds. A vision, quite simply, is a picture of what success will be at a particular time in the future. It encompasses answers to an array of questions: What does our organization look like? How big is it? What are we famous for? Why does anyone care about what we do? How do people who work here feel about their jobs? How do I, as the founder, feel about the business? What's my role in it? Complete the visioning process, and you'll have a clearly articulated end for your organization— something that won't change every time the market or your mood shifts."
So carve out some time to spend on your vision, because that is what you're going to plan your entire tactical calendar around for the next year.
Once you've done that, it's time to dig deeper. Ask yourself the following questions:
Who are my target prospects?

What are my prospects' biggest challenges? (What problems are they looking to solve?)

What makes me unique as the solution to these challenges? (Go ahead and brag a little bit!)

What marketing tactics can I use to attract my consumer's attention? (Sometimes it helps to think about what other companies have done that you've noticed and responded to)
Don't Boil the Ocean
Once you decide what tactics you want to use to attract your prospects' attention, take a look at who on your team can take ownership of marketing management. Try mapping out all the things you aspire to execute in a given period of time, but be realistic. Make your goals reasonable, measurable, and choose a finite number of tactics on which to focus monthly for the next six months.
When it comes to planning and executing those tactics for the next six months, the importance of having a marketing calendar can't be emphasized enough. The calendar should have the dates, themes, tactics, success metrics, links to relevant documents, and arguably, the most important piece: one single owner. Since you may have multiple employees, management, outside contractors or agencies working with your company, having "everything in one place" increases focus and allows you to quickly spot errors, bottlenecks, and opportunities.
Let this calendar be your guide. Here are a few suggestions for creating this calendar.
Execution Tips
Assign one person to 'own' the execution calendar – it needs to be an accessible, working document where everyone goes to make updates at least once every two weeks (if not multiple times per week!).

Make sure that the cross-functional team uses this document as a single source of planning so that everything stays in one place.

Decide what success is and how it will be measured.

Pick tactics that meet the success vision, and select success metrics before execution.

After each phase of execution, document the results and determine if they met expectations.

Adjust your strategy as you go! If it's working, keep it up. If it's not, make some adjustments.

Check-in often, track your progress and celebrate the wins.
If you follow these steps. 2020 has the potential to be the best year yet for your business. Ready to get a jumpstart on your 2020 marketing planning and execution? Need some examples and a guide?
Download our FREE Marketing Planning Workbook for a guide to planning your marketing like a pro!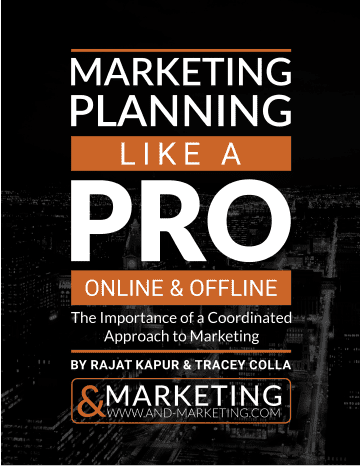 About the Authors
As the founder and Managing Director of &Marketing, Rajat "Raj" Kapur strives to provide growing businesses of all sizes unparalleled marketing strategy and execution services. Raj brings nearly two decades of professional experience in marketing, sales, and strategy development experience spanning B2B and B2C Fortune 50, mid-sized, and startups.
Marketing Director Tracey Colla focuses on ensuring each client's needs are being met in a timely, productive, and creative way. She is a well-rounded marketer, with a talent for identifying uncovered opportunities, and go-to-market strategies and launches. Marketing planning is one of her favorite things to work on!
About &Marketing
In today's fast paced world, many growing businesses are struggling to modernize their marketing approaches because either they don't have the expertise or the bandwidth to do it themselves.
&Marketing provides seasoned marketing strategy professionals and a nimble execution team to help our clients achieve their goals. Our unique partnership model allows us to augment our client's existing teams or outsource the entire marketing function in an affordable, flexible, and transparent way.