How Do You Know If You Should Hire A Fractional CMO?
An expert marketing team led by a highly experienced Fractional Chief Marketing Officer (fCMO) can be the right answer if you are not ready or don't want to spend the money on a full team. This is ideal for start-ups ready to scale up and small to mid-sized businesses that want to accelerate growth.
5 Signs That You Should Hire A Fractional CMO
Here are five indicators that you may want to hire a Fractional CMO working with a group of subject matter experts. This strategy ensures a data-based marketing plan grounded in a deep understanding of your market, competitors, and customers. It also effectively executes marketing programs and initiatives to give you a better return on your investment.
1. Marketing has merely been a part-time effort.
In many smaller companies and start-ups, the CEO or the sales leaders do marketing "on the side." They may have some administrative help, but marketing is not a primary focus. They may be sending emails to customers, preparing marketing materials, or even writing blogs, but this is not likely very effective. The messages shared by these marketing efforts tend to be scattered and confusing.
In addition to marketing strategy, our team can help you develop a focused brand image and message that you can effectively communicate through marketing materials with a unified and recognizable brand identity.
2. You are getting ready to invest in marketing.
You may want to hire a Fractional CMO if you believe that an investment in marketing can accelerate your company's growth trajectory or if you are ready to scale up. Investing in marketing without executive-level leadership and subject matter expertise will reduce your likelihood of success and diminish your return on investment. These teams offer the experience and practices used by larger companies and have experience with a variety of clients and industries.
3. You need a fresh outlook and executive-level insights.
Often companies are stuck within their own walls and ways of doing business. Apply outside perspective in developing and executing marketing strategies and programs to accelerate your growth. Executives with decades of experience in other similar situations can provide insights on what is more likely to work in your business or industry.
4. You need proven processes.
Many companies often deploy a hodgepodge of marketing tactics without a methodical, systematic approach. However, marketing is as much an art as a science. Proven processes that have been repeatedly successful in other situations can dramatically increase your chances of success, usually at a lower cost.
Our teams are highly data-driven and use data on key performance indicators to measure and drive marketing results. Empowering you with a deeper understanding of your market, competition, and current/potential customers is our starting point in developing the right marketing strategies for you. This is followed by execution processes all the way to working with your sales force to ensure that leads generated are quickly followed up.
5. Your business doesn't need or cannot afford a full-time CMO with subject matter experts for execution.
Many businesses do not need, and cannot afford, a full-time CMO with a large marketing department. An investment like that is a significant commitment and can be expensive, especially for smaller businesses and start-ups. You should commit to this only if it is absolutely necessary. If you hire a Fractional CMO with a solid team, they can deliver the same value for a fraction of the cost.
What Should You Look For In A Fractional CMO?
If you're wondering what to look for in a Fractional CMO candidate, here are a few characteristics of successful fCMOs:
Focused on developing a holistic strategy.
A successful fCMO has experience across a variety of industries and situations, so they know which winning strategies are likely to work for your business. They also know how to use their leadership skills to guide the execution and deployment of those strategies, ensuring that projects focused on short-term results still tie into the overall strategy. They will also guide you in choosing metrics and KPIs that clearly demonstrate progress toward that strategy.
Can deploy a proven set of execution tactics.
A good fCMO should come prepared with a proven set of winning processes and procedures. They should have the flexibility to tailor those processes to your organization's unique needs, empowering you with the tools to reach the vision outlined in the overall brand marketing strategy and sustain long-term growth. A modern Fractional CMO also has a working knowledge of the ins and outs of digital marketing.
Serves as a mentor, not just a vendor.
Great fCMOs act as an extension of your team, working "in" the business, fully integrating with a high level of attentiveness and investment in your company's goals and culture. They focus on results, driving teams to fully close the loop from strategy to execution, ensuring projects are fully realized to the highest level possible.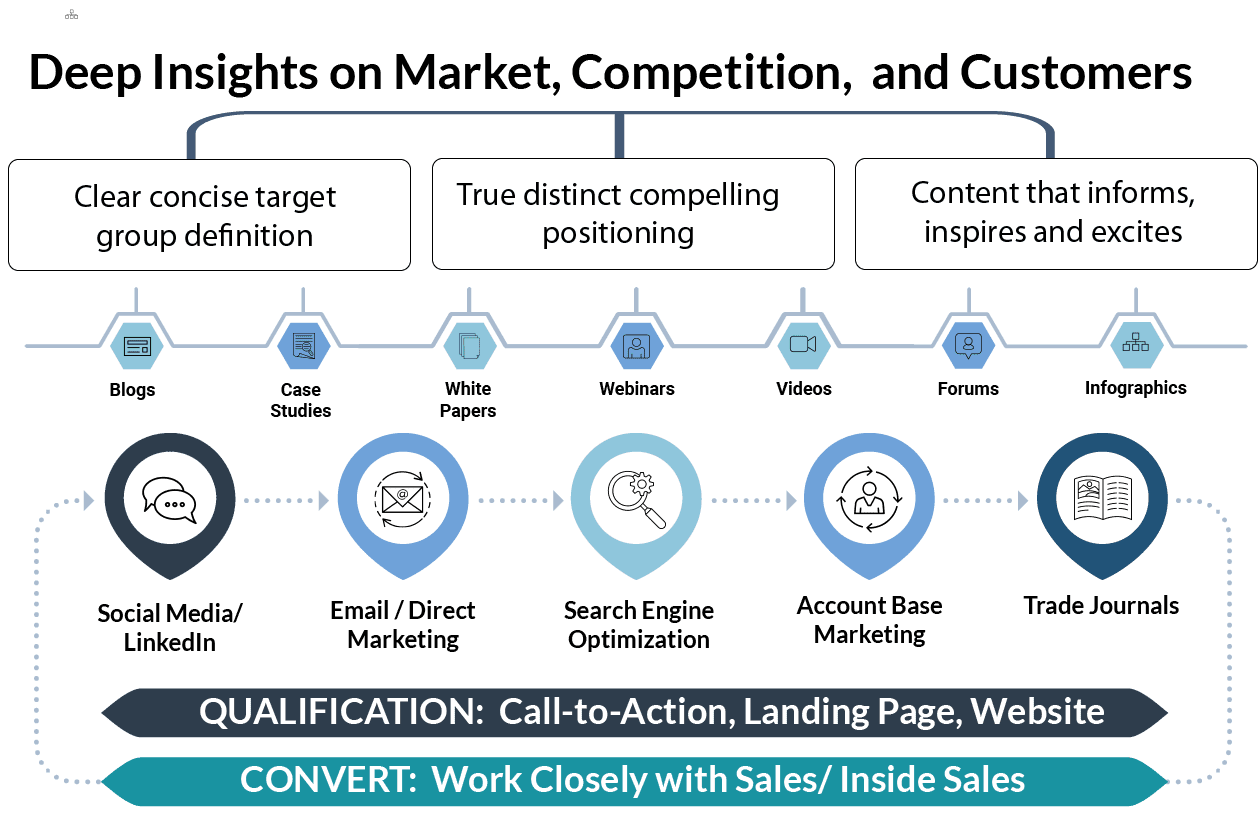 How To Hire A Fractional CMO
Good marketing builds your brand, creates awareness, generates leads, attracts new customers, and accelerates your growth. Finding a way to do the absolute best marketing you can is critical, especially when times are tight. Hiring a Fractional CMO with a solid execution team may be a smart way to go. Plus, you can add people and capabilities as you grow. At the right time, we will help you transition by developing the right organizational structure while helping you hire the right people. For &Marketing, this transition is a sign that we have been successful. Contact us today to start driving growth with a Fractional CMO.
About &Marketing
&Marketing provides the robust outsourced marketing department growing companies need without the high overhead costs of big agencies or full-time employees. Our variable model empowers businesses to reach their growth goals through access to the guidance and expertise of senior level strategists and a flexible execution team.
Are you facing challenges of your own in generating leads and meeting your business' growth goals?
We'd love to learn more about your challenges and how a coordinated marketing approach might help take your organization to the next level.