Top 7 Tips For Tackling Social Media In 2020
2019 brought no shortage of changes to our favorite social media platforms along with the surprising rise of some new players. Our social media experts have combed through all of the major updates, studied, the trends, and analyzed what's coming in the new year. Here are our top 7 tips for tackling social media across B2B and B2C in 2020. Plus, don't miss our complete &Marketing 2020 Social Media Playbook so you can set your growing business up for success on social.
1. Join the Huddle
Leverage Facebook Groups 
As Facebook continues to experience a plateau in growth and an exodus of younger generations from the platform, they must rediscover their purpose in people's lives. By putting Groups at the forefront of the user experience, Facebook believes community will be re-established on a platform that has begun to function as an advertising hub. Unlike Facebook Pages, where your audience may be there simply for promotions and discounts, Facebook Groups are genuinely interested and more engaged in a specific topic. This presents an opportunity for businesses to join conversations within your niche— staying relevant with existing fans and reaching new ones. Taking part in these discussions can also prove your status as an expert in your field.
2. Try New Plays
A/B test with Facebook's New Ad Platform
You've likely been using Facebook's existing ad platform for your business, but now they're taking a page out of Google's responsible ad playbook. Facebook's new responsible ad feature is officially dubbed "Multiple Text Optimization," and it's essentially an upgrade to the A/B testing tool you are already familiar with. The new feature should make it easier to create and optimize different options for headlines, ad copy, and product descriptions so you can make the best choices for your campaigns.
3. Get Your First Draft Pick Ready
Reach Gen Z with New Platforms like TikTok
Facebook began as a social media website only college students could use to connect with roommates, classmates, and others using only a college email address to sign up. WIth the demographics of Facebook changing, Gen Z consumers are looking for a new social media space they can claim as their own. That space is shaping up to be TikTok. Ad opportunities are still relatively limited, but you would be wise to be an early adopter of this platform before the algorithm rears its ugly head here too.
4. Get to Know Your Fans 
Make Insights Work for You
Facebook for Business has a resource center called Blueprint that offers tons of free eCourses and certificates you can earn to help grow your digital marketing abilities through Facebook and Instagram. Over the summer, Facebook added nearly 30 courses that cover everything from growing a business Page to editing the copy in your Facebook ad and how to select the best visuals. When Facebook tells you what works on their platforms, you should probably listen.
5. Recruit Top Players with Personalization 
Slide into Someone's DMs in 2020
Private and direct messaging continue to grow in popularity on social media. DMs are taking the place of calling a customer service representative, so potential and existing customers expect their questions and requests to be responded to personally and in a timely manner. As a result of this, chatbots are growing and more people feel comfortable reaching out to strangers on social media platforms such as LinkedIn and Facebook.
6. Teamwork Makes the Dream Work
Partner-up with Key Players in Your Arena
Collaboration over competition is going to continue to be the theme in 2020. Team up with an influencer on Instagram. Invite bloggers to contribute to your group boards on Pinterest. Do a Facebook Live interview with an expert on your Business Page. Increase your exposure and your network through valuable partnerships and engagement from both audience and theirs.
7. Give Back with Donate Buttons
Give Your Customers a Cause to Care About
If you run a nonprofit, or if you simply partner up with a charity or cause that your consumers would care to get involved with, Facebook and Instagram have made it easier to donate. Instagram stories already offered "donate" stickers in Stories, but Facebook has jumped on the sticker bandwagon too. Additionally, Instagram now makes it possible for nonprofit organizations to add a "donate" button to their business profile.
These are just the highlights of the major changes of 2019 and how you can use them to execute a stellar social media game plan for 2020. For a full highlight reel of all the biggest 2019 changes per social platform and our complete playbook on where to spend your social media time and energy and how, download the &Marketing 2020 Social Media Playbook for FREE below.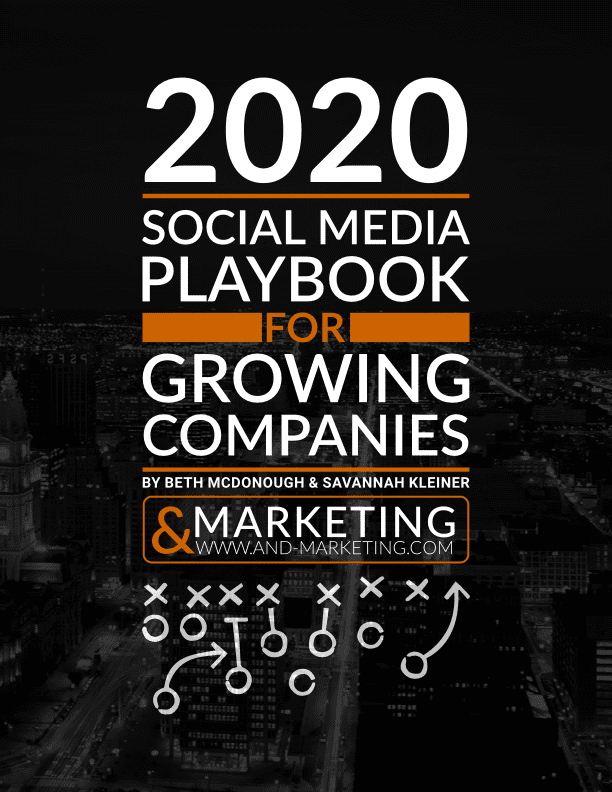 About the Authors
Beth McDonough
As Content Manager at &Marketing, Beth McDonough helps brands identify their unique voice, develop their engaging story, and execute compelling copy and thoughtful content that increase engagement and generate leads. Beth tailors a thoughtful and innovative approach to hone each brand partner's strengths and articulate them to attract and retain customers. Beth holds a Master of Arts degree in English from Gannon University.
Savannah Kleiner
As a Marketing Manager at &Marketing, Savannah Kleiner develops and implements influencer marketing solutions that increase engagement and drive results. With an innovative and unique approach to each client, Savannah tailors custom strategies to effectively reach clients' desired audiences and goals. Savannah graduated from the Lacy School of Business at Butler University with a major in Marketing.
About &Marketing
In today's fast paced world, many growing businesses are struggling to modernize their marketing approaches because either they don't have the expertise or the bandwidth to do it themselves.
&Marketing provides seasoned marketing strategy professionals and a nimble execution team to help our clients achieve their goals. Our unique partnership model allows us to augment our client's existing teams or outsource the entire marketing function in an affordable, flexible, and transparent way.