Website Design & Development
&Marketing's Approach
&

Marketing's Website Philosophies
Many companies want a new website (or they say they want a new website) but aren't exactly clear on what that means. So, before we begin any project, we always like to get more context before 'diving in.' We have two philosophies that underpin everything we do with website builds:
First: Why do you want a new website? What is the business objective? How will you know if you've achieved it? Sometimes that's a simple response, sometimes businesses have not thought this through or documented it. Although we pride ourselves in producing beautiful websites, we equally pride ourselves in thoughtfully executed and analytically grounded work. If we can measure something tangible, we'd prefer that.
Second: We're big fans of the StoryBrand framework. Why? First, it forces a company to clarify its message which is essential to a website (and many companies don't have a clear message). Second, it works – frameworks like StoryBrand increase revenue generation and reduce bounce rate.
&

Marketing's Scoping Parameters
We often get asked, "How much would a new website cost?" Unfortunately, the answer is 'it depends' because it really depends on the answers to five major questions that determine scope (budget and timeline).
1) What's the necessary functionality? Functionality drives the chosen platform which is probably the biggest driver of cost. Do you need any integrations or plugins with your website – now or in the future? This list could be infinite but may include ERP, CRM, Customer logins, eCommerce, etc.
There are generally four options to choose between, and we can work in them all. We don't believe in overbuilding so if you need a simple, attractive, SEO optimized SquareSpace site, then that's all you should build. This guide might help but this is probably more of a conversation starter than a strict formula.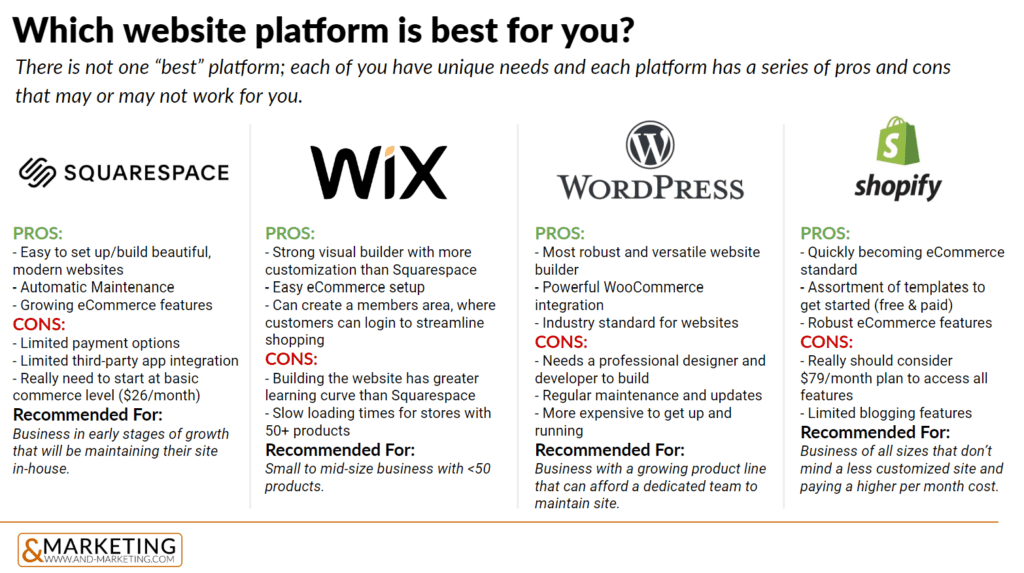 2) How much content do you have? The more content that needs to be transferred from an existing site or the more content that needs to be created, the more it will cost. 3) Do you have a clear and consistently applied brand guide? If you have a solid, modern logo, and consistent colors and fonts, then then we don't have to build anything new, so that saves money. For those that don't have a brand guide, we routinely build these and have multiple options from which to choose. 4) Do you need a metric-driven SEO plan that is competitively differentiated? Often (ie, almost always) companies want to improve their SEO or lead gen to fill a gap or differentiate themselves from the competition when they build a site. The right time to consider this is before starting your website project. We can help gather the right data. 5) Will you be providing the assets? Websites need written content and visuals (photos, images, and videos) – we can produce or provide these if needed, but those will drive cost.
&

Marketing's Website Approach
1: Requirements gathering and alignment – Conduct internal discovery (existing materials, value prop/messaging, customer research, sales presentations, etc) and complete specifications (page & content requirements, information needed, forms, plugins, etc)
2: Business Intelligence & Analytics (optional, if selected) Provide data-driven insights on how to build the website optimally for SEO, SERP, and Competitive differentiation.
3: Storybrand brand script – Conduct exercise(s) with client to refine messaging and visual requirements
4: Website Outline & Wireframe Design – Build out the recommended website structure & design, which is reviewed and approved.
5: Website Build and Testing – Ensure build-out is in line with the strategy and outline/wireframe.
6: Reporting and Analytics – Set up Google Analytics and reporting for when the site is live; create sample report vs KPIs.
&

Marketing Website Examples
Often, we provide services in addition to website development during or after a website project, such as:
Senior-level strategy
Branding & creative
Content creation & storytelling
PR/Influencer marketing & events support
Marketing automation & CRM management
Ongoing reporting & analytics
Appendix: Doing Business with
&

Marketing (How we work)
Our client support system is led by a marketing manager who acts as the "single point of contact" (SPOC) for a team of specialists whose expertise can be accessed on an 'as needed' basis.
Most engagements (but not all) begin with some sort of "up front" work to complete strategy work (research, segmentation, value proposition development), set up measurement systems, upgrade branding or web assets, establish marketing calendars, begin ad tests, etc; this is usually on a 'project' basis.
For monthly engagements, we agree upon a monthly budget range up front and a set of deliverables. This allows client work to be done consistently while allowing our team predictable work. If things need to be added, removed, or changed, we communicate openly during our periodic (biweekly or monthly) working sessions. Additional work can be added on an hourly or project basis, and we transparently provide all backup information.
During these working sessions we catch up on all workstreams (current and anticipated), receive approval, make changes as needed, and align on next steps. We also proactively advise if we are on or off track (budget or deliverables). If we anticipate that we will exceed the monthly budget, we'll decide together whether to pause the work, exceed the budget, or have our clients take the work 'in-house'. We do this for a few reasons: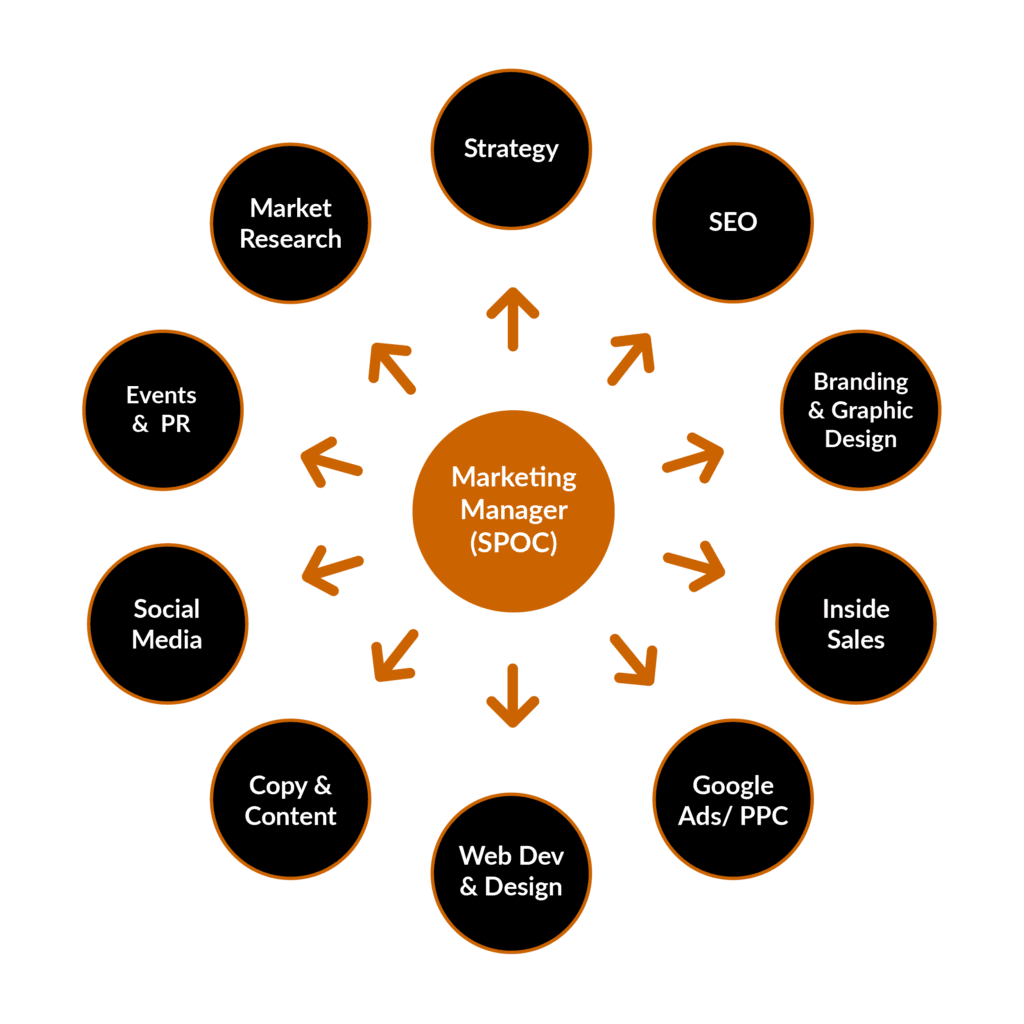 1: We believe in full transparency
– you should know what your marketing budget is being spent on – no hidden stuff or surprises.
2: We know you need flexibility
– we know things change in a small business, because we are one too.
3:
We want to grow with you so when we're all successful and you need more help, you'll stay with us.
4: We want you to be fans of ours and tell others
– pretty much 100% of our business comes through referrals.
Examples of this approach in action:
Contact
&

Marketing for a Free Consultation: