&

Marketing Brand Guidelines
Brand Guidelines – Brand guidelines ensure consistency for logo, tagline, color palette, fonts, etc, across all formats – online, offline, packaging, in-store. This is usually a one-time project that may need updates from time to time. Note: Usually brand guidelines are put in place after a clear brand playbook has been completed (consumer research, value proposition, competitive differentiation, etc).
Options for Brand Guidelines
Below are three options for brand guides that could be developed to promote brand integrity and consistency. Options 2 and 3 include re-working existing packaging (if applicable) to ensure a consistent look and feel, which would require consumer or customer research as an input and messaging be done before beginning brand guidelines.
Option 1 – Essential Brand Guide (2 weeks):
This essential brand guide would be a barebones guide of your current brand and brand elements.
This 3-5 page brand guide would contain:
Logo guidelines
Typography guidelines
Color palette guidelines:

For primary brand identity
For any sub-brands

Visual reference to current packaging of products for reference
Example: Gray Falkon
Option 2- Full Brand Guide (4-6 weeks):
This full brand guide would include both high-level branding (mission/tone/etc) elements, as well as guidelines for the application and use of your brand elements.
This 20-25 page Full Brand Guide would contain:
Introduction
Mission
Tone
Style
Logo Use
Typography
Colors Palette: Primary Brand, Packaging Colors for 2-3 variants
Packaging for 2-3 variants
Photography
Iconography
Social Media Guidelines
Example: 2020 On-Site
Option 3 – Brand Bible (6-8 weeks):
This brand bible provides not only a roadmap to using your brand elements and maintaining brand integrity, but also includes a brand pyramid, messaging framework, and target audiences. This is a robust and exhaustive guide to promoting your brand.
This 30-35 page Band Bible would contain:
Introduction
Brand Pyramid
Target Audience
Messaging Framework
Brand Assets:

Logo
Color
Typography
Photography & Illustration Guidelines

Print & Packaging Guidelines:

Packaging
Stationary
Ad Styles

Digital Guidelines:

Website
Ads (Social & Google Ads)
Social Media Guidelines
Appendix: Doing Business with
&

Marketing (How we work)
Our client support system is led by a marketing manager who acts as the "single point of contact" (SPOC) for a team of specialists whose expertise can be accessed on an 'as needed' basis.
Most engagements (but not all) begin with some sort of "up front" work to complete strategy work (research, segmentation, value proposition development), set up measurement systems, upgrade branding or web assets, establish marketing calendars, begin ad tests, etc; this is usually on a 'project' basis.
For monthly engagements, we agree upon a monthly budget range up front and a set of deliverables. This allows client work to be done consistently while allowing our team predictable work. If things need to be added, removed, or changed, we communicate openly during our periodic (biweekly or monthly) working sessions. Additional work can be added on an hourly or project basis, and we transparently provide all backup information.
During these working sessions we catch up on all workstreams (current and anticipated), receive approval, make changes as needed, and align on next steps. We also proactively advise if we are on or off track (budget or deliverables). If we anticipate that we will exceed the monthly budget, we'll decide together whether to pause the work, exceed the budget, or have our clients take the work 'in-house'. We do this for a few reasons: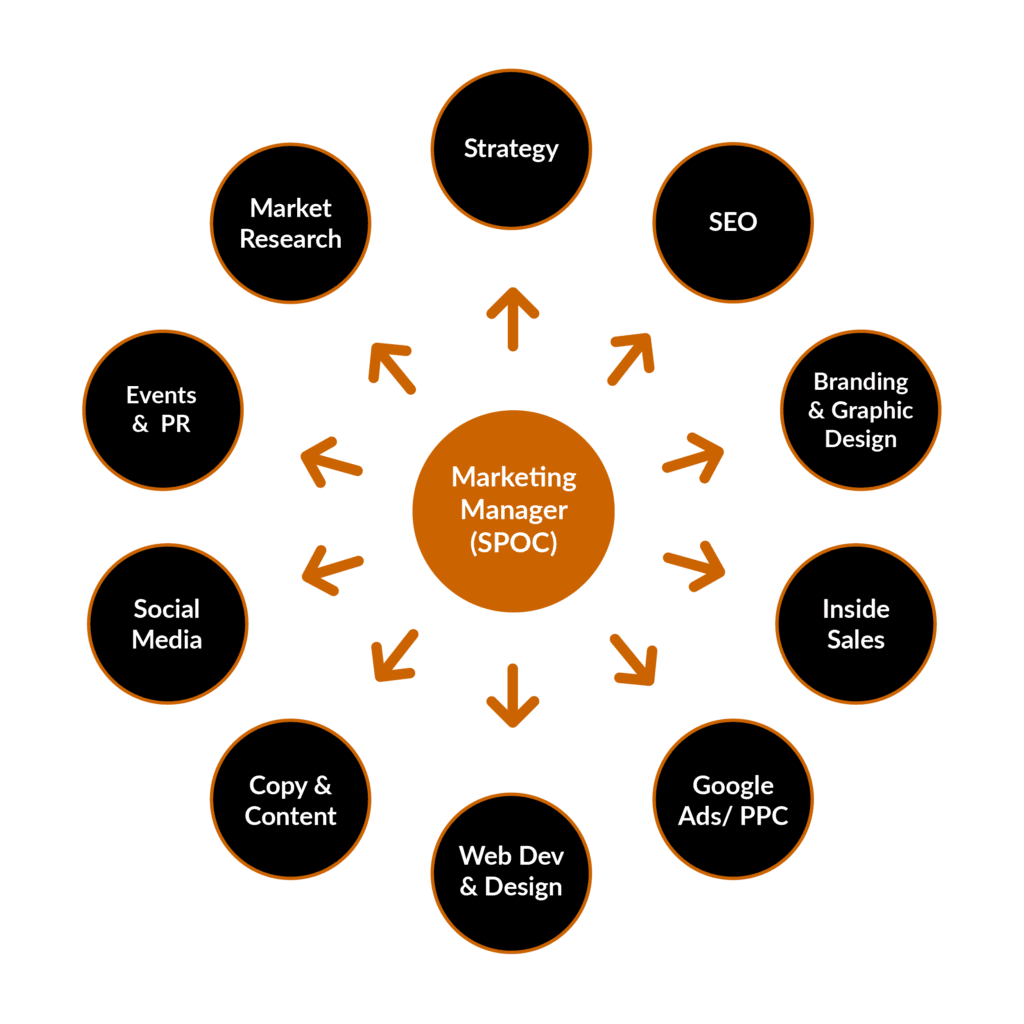 1: We believe in full transparency – you should know what your marketing budget is being spent on – no hidden stuff or surprises.
2: We know you need flexibility – we know things change in a small business, because we are one too.
3: We want to grow with you so when we're all successful and you need more help, you'll stay with us.
4: We want you to be fans of ours and tell others – pretty much 100% of our business comes through referrals.
Examples of this approach in action:
Contact
&

Marketing for a Free Consultation: