&

Marketing's Investor
Presentation Framework
&Marketing often takes the role of VP of Marketing to help our clients with C-level strategic advice on a flexible, fractional basis, as part of our "Virtual" strategy & execution services.
When companies are raising funds, they need to present themselves professionally to potential investors. Based on decades of experience helping growing companies develop their presentations (or 'pitch' decks), there are usually five elements of a successful investor presentation:
Problem or market opportunity – The unsolved problem or market opportunity needs to be clearly articulated, with market data if available. Quite often, startups don't consider the buyer/decision maker and how these individuals currently solve this challenge. This market opportunity must be big, clear, and up-front. If there is no clear problem or market opportunity, an investor won't likely be interested in learning about the solution.
Solution & uniqueness – Your startup's solution needs to clearly solve the stated problem, with some element of uniqueness. This uniqueness must be clear in the eyes of the targeted prospect or decision-maker (usually better, faster, easier, or cheaper). Often, startups either present a solution that already exists or one that can be easily replicated.
Leadership team – "Investors invest in people" – this aphorism is quite true in our experience. Investors want to know that the team has some level of relevant experience in a relevant industry, with the technology, or with previous startups.
Financials, business model, and scalability – Investors also need clarity on different aspects of the business model, and 'flash' will not likely win here. This section often includes the revenue & profit model (how do you make money?) competitive dynamics (direct or indirect competitors and substitutes), scalability (how will this grow? Become profitable? What's your exit plan?), protectability (why won't competitors join this space once you're successful?), and may need to include other key elements of a successful business.
Raise details and use of funds – Before giving you money, investors also need to know how much money you're raising, the terms of the agreement, and how you plan on spending the money. If you have a company valuation, it will likely go in this section.
&

Marketing's Scoping Parameters
In order to assist with an investor presentation, &Marketing needs to better understand the following:
Do you already have an existing or previous investor presentation? We will review this and develop a point of view on what needs to change (and what needs to stay the same). Why is the current one not working? Is it dated? Too long? Too technical? Not visually appealing?
Are your financials gathered? If your financial data is not already organized or consolidated, our team can gather, analyze, and present opportunities to incorporate into your presentation.
Do you have a clear and consistently applied logo and brand guide? If you have a solid, modern logo, and consistent colors and fonts, then then we don't have to build anything new, so that saves money. For those that don't have a brand guide, we routinely build these and have multiple options from which to choose.
Have you completed market or customer research? Often the company's value proposition requires clarity, so some level of research or testing is needed to validate the product-market fit, market size, addressable segment, or revenue potential.
Will you be providing the assets? Investor presentations need written content and visuals (photos, images, and videos) – we can produce or provide these if needed, but those will drive cost.
&

Marketing's Investor Presentation Approach
There are three parts of our process for building successful investor presentations – which can take a few days, or several weeks.
Document the story – First, we document the presentation in words. We take the time to tell the entire investor story/narrative before building slides. This saves time and money.
Build the slides & visuals – Then we build the slides & charts professionally so the story comes to life visually.
Test & iterate – Finally, we allow a period of testing and iterating based on your initial rounds of investor meetings. We don't assume that the investor presentation is complete until the fundraising goal has been achieved!
&

Marketing's Investor Presentation Examples
Here are examples of investor presentations that generally follow this framework.
WorkHere (hyper local job searches for blue-collar workers)
WarmUp (systematizes and automates sales team getting referrals from happy clients)
Rocket Dollar (allows individuals to use their 401Ks for non-standard investment)
Clear Software (helps bigger companies take data from multiple systems into a single dashboard)
Often, we provide services in addition to website development during or after a website project, such as:
Senior-level strategy and advisory
Branding & creative
Content creation & storytelling
PR/Influencer marketing & events support
Marketing automation & CRM management
Ongoing reporting & analytics
Learn more at www.and-marketing.com or give us a call!
Appendix: Doing Business with
&

Marketing (How we work)
Our client support system is led by a marketing manager who acts as the "single point of contact" (SPOC) for a team of specialists whose expertise can be accessed on an 'as needed' basis.
Most engagements (but not all) begin with some sort of "up front" work to complete strategy work (research, segmentation, value proposition development), set up measurement systems, upgrade branding or web assets, establish marketing calendars, begin ad tests, etc; this is usually on a 'project' basis.
For monthly engagements, we agree upon a monthly budget range up front and a set of deliverables. This allows client work to be done consistently while allowing our team predictable work. If things need to be added, removed, or changed, we communicate openly during our periodic (biweekly or monthly) working sessions. Additional work can be added on an hourly or project basis, and we transparently provide all backup information.
During these working sessions we catch up on all workstreams (current and anticipated), receive approval, make changes as needed, and align on next steps. We also proactively advise if we are on or off track (budget or deliverables). If we anticipate that we will exceed the monthly budget, we'll decide together whether to pause the work, exceed the budget, or have our clients take the work 'in-house'. We do this for a few reasons: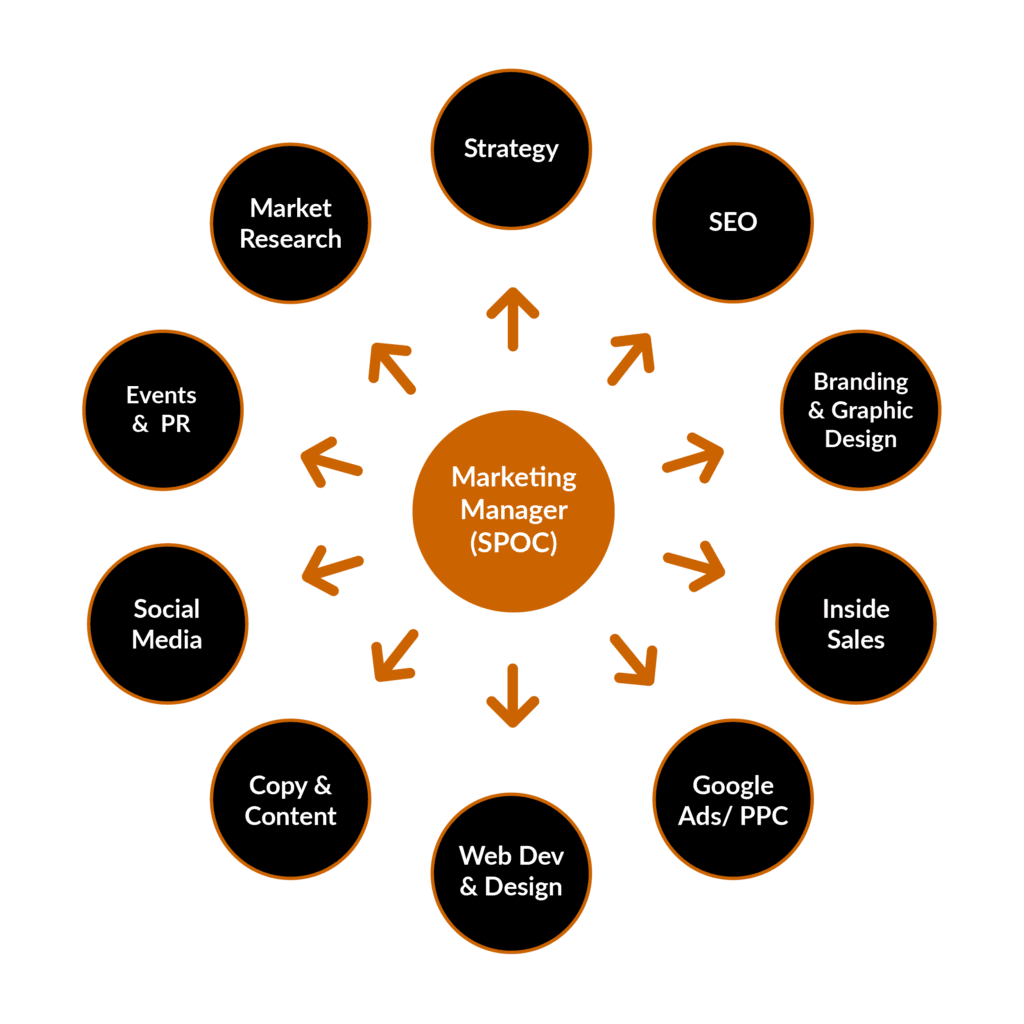 1: We believe in full transparency – you should know what your marketing budget is being spent on – no hidden stuff or surprises.
2: We know you need flexibility – we know things change in a small business, because we are one too.
3: We want to grow with you so when we're all successful and you need more help, you'll stay with us.
4: We want you to be fans of ours and tell others – pretty much 100% of our business comes through referrals.
Examples of this approach in action:
Contact
&

Marketing for a Free Consultation: