Integrating eCommerce to Grow Revenue
Business Challenge Summary
Joe's Next Door (https://joesnextdoor.com/) is a gourmet sandwich restaurant located in downtown Carmel, IN. Their delicious, award-winning sandwiches drew the crowds in but they were losing business due to the delay in prep time, which turned off midday patrons who need to grab lunch in a hurry. To overcome this issue of speed, they needed an easy system for customers to order ahead online so they can "pick-up and go." They turned to &Marketing to help design their eCommerce site and integrate it with their kitchen to create a seamless lunchtime experience for both the hardworking staff and their hungry customers.
eCommerce Site Development
&Marketing designed, developed, and launched a custom eCommerce extension to Joe's Next Door. With WordPress and WooCommerce, we were able to deliver an online store that functioned fully on both desktop and mobile devices with a simple two-step order and checkout process.
Backend/Kitchen Integration
To make sure that Joe's ordering system integrated cohesively with their current business process, &Marketing also developed a custom backend system to coordinate with the kitchen crew. The backend system runs on a mounted iPad that notifies the crew of orders, prints out the orders for the line cook, and allows the crew to contact the customer via text message once their order is ready to pick-up. The program also allows the kitchen to open and close the ordering system on a timer that coincides with store hours.
User Behavior Management
Beyond the system, &Marketing worked with Joe to plan and outline all steps of the customer ordering experience to increase the efficiency of the order and preparation process. The entire ordering process is now filled with checks at every stage to ensure that messages are received and customers know how to interact with the ordering system and restaurant when they pick up an order.
Results
Although this system was only recently implemented, early orders have indicated an improvement in synchronization and accuracy, and there have been no technical issues between the ordering, communication with the kitchen, and financial systems. Joe's Next Door is beginning the new year with confidence, and the management team is anticipating a 20% boost in lunchtime revenue order volume in 2019.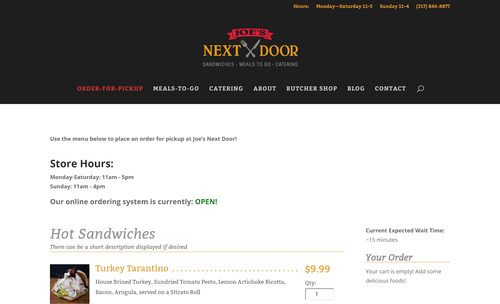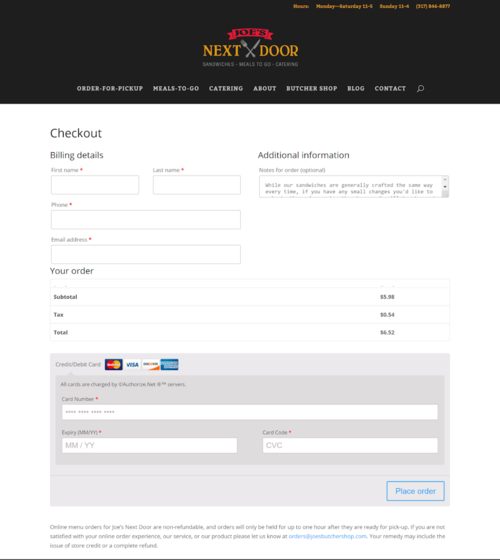 Are you facing challenges of your own in generating leads and meeting your business' growth goals?
We'd love to learn more about your challenges and how a coordinated marketing approach might help take your organization to the next level.
About &Marketing:
&Marketing provides the robust outsourced marketing department growing companies need without the high overhead costs of big agencies or full-time employees. Our variable model empowers businesses to reach their growth goals through access to the guidance and expertise of senior level strategists and a flexible execution team.