What You Need to Know About the New Google Analytics 4
Google recently released Google Analytics 4 (GA4), the next iteration of Google's powerful analytics and measurement tool. GA4 adds machine learning capabilities, tracks users across devices, and provides more granular data controls. These adjustments are sure to empower users with the ability to gather more audience based data so they can make more informed and strategic business and marketing decisions.
What is Google Analytics 4?
The latest iteration of Google's web analytics platform, previously known as Google Web & app and now dubbed Google Analytics 4, is now available for anyone to start using— for free! The new property type includes expanded predictive insights, deeper integration with Google Ads, cross-device measurement capabilities and more granular data controls.
       A lot is new in Google Analytics 4, but we've highlighted a few of the key features that will benefit your brand and your marketing the most as you plan your strategy for the new year.
More granular data by way of "events." These events can now be identified by actions as scroll starts and stops as well as clicks and conversions. You can also segment these events even further by audience, device, location, etc.
Codeless event tracking. In the past, Event tracking setup required custom code to be set on pages, with buttons that required a web developer to apply. Now you can open your website within Google's window and tag events directly.
Deeper audiences integration with Google Ads. Get you more insights into who is interacting with your ads.Reports on actions from YouTube. Views and engagement that occur in-app as well as on the web version of YouTube are now able to be reported through GA4.
Customer lifecycle-framed reporting. This will allow you to see all aspects of the customer journey, such as what channels are driving new customers and how overall engagement and retention is performing.
More connection. Connect your mobile and web application data alongside your website data.
Why Google Analytics 4 is important for your business
Google Analytics 4 will be the default option when you set up a new property within your analytics. The previous iteration, Universal Analytics, will continue to remain available, but Google recommends site owners set up both property types and run them in parallel. New feature development will be focused on GA4.
The new Google Analytics 4 property provides a more complete cross-channel view of the customer lifecycle, allowing you to see which channels work together to help you meet your goals and puts that information to use through predictive marketing features. This equips marketers with more information and efficient ways to act on those insights. The more detailed reporting on scrolls and clicks on pages will help businesses of all sizes easily identify weak points in their website so they know where to focus their efforts first to test new ideas and improve conversion rates and performance.
Companies that have apps, those who do not have an on-site or on-demand contractor who is a web developer, and eCommerce businesses are among those who will benefit most from Google Analytics 4. But if you use analytics (hint: you all should be!) and are wondering when you should switch over to GA4, the answer is now. If you haven't been collecting data in your website, it's just like the best time to plant a tree. You should have done it 20 years ago, but there's no time like the present to get started.
How to Set Up Google Analytics 4
Setup is relatively easy. Simply go to your site's current Analytics and click on the "gear" icon in the lower left hand corner of the page. This will open the Admin panel. In the middle view, under "Property" you'll see an option to "Upgrade to GA4." Click that and follow the prompts in the setup wizard provides. Please note that you'll be required to add a bit of code to your site, similar to Google Tag Manager.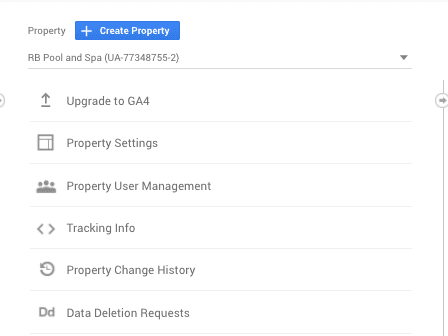 Long story short, Google Analytics 4 will provide you with more data and information about how your audience is interacting on your site or app, which is crucial to have in order to experience real growth. Though we are probably still two years away from full integration of GA4, it's important to set up your property so you can begin generating data that can further your strategy and decision making in ways that the traditional Google Analytics just can't do.
Got a question about GA4 or need help in setting it up? We'd love to help! Just fill out the form below.
Using data will truly transform your marketing results. Want to learn exactly how? Download our eBook, "5 Ways Business Intelligence & Analytics Will Revolutionize Your Marketing Strategy."
About Paul Ferguson
As a Marketing Director at &Marketing, Paul Ferguson uses his 16 years of B2B marketing experience to help clients develop fully integrated marketing solutions that make impressions and drive results. Whether it be design-oriented campaigns or digital market execution, Paul skillfully creates strategies backed by data, to effectively reach client's desired audiences. 
About Dexter Burgess
Marketing Manager Dexter Burgess takes the lead on implementing new tactics and promoting change through data-driven strategies. Dex works hard at client relations through consistent communication and positive feedback, never settling until the customer is understood and happy.
About &Marketing
&Marketing provides the robust outsourced marketing department growing companies need without the high overhead costs of big agencies or full-time employees. Our variable model empowers businesses to reach their growth goals through access to the guidance and expertise of senior level strategists and a flexible execution team.
Are you facing challenges of your own in generating leads and meeting your business' growth goals?
We'd love to learn more about your challenges and how a coordinated marketing approach might help take your organization to the next level.