The Six Essentials Startups Need Most When Seeking Investment
Start-ups seeking new investors, regardless of the level of investment, need to better understand what drives individual investors or venture capital firms.
Around 65% of venture capital backed businesses fail to get a positive return on capital (ROIC) for investors. Because of this risk, investors have to be selective. Most investors look for six specific things when considering an investment in a startup business.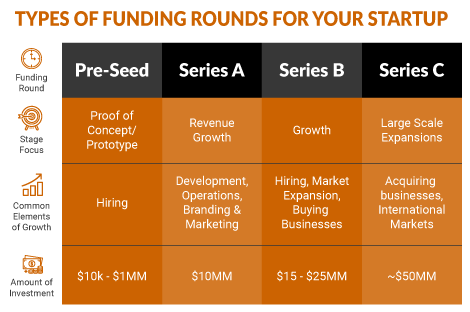 What Do Startups Need Most?
1. A Meaningful, Unique & Innovative Product or Service
Investors look for a product or service with a compelling reason for customers to change current habits, or see something that is truly unique. Meaningful patents or trade secrets are also highly desirable for investors. Either way, the product or service should have strong differentiators. The functionality provided by a unique and innovative product should be readily apparent, making the sale process easier. Minimal barriers should stand in the way of the buying process, making it easy for customers to convert.
A differentiated business model is a major plus. As an example, in recent years, leveraging the internet has provided a way to reach consumers not easily accessible before – some notable examples are:
Direct shipping of fast moving consumer goods delivered quickly to people's homes versus in-person retail
Online mortgages via Quicken Loans that supersede the need to go into a physical bank
Lyft, which offers on-demand, easy to reach transportation versus hailing taxis
Investors will rarely invest in an existing and successful "me too" product where there will likely be a fight for market share. Just a "good idea" is not sufficient either. Most investors get involved with only a small fraction of ideas they screen, so it's essential to stand out. The leading reason that start-ups fail at 42% is that there was "no market need."
Successful startups are constantly seeking to satisfy their customers…. Design your products with the customer in mind. Remarkable startups listen and respond to their customers' evolving needs and expectations.
2. Ability to Gain Traction with Large Potential
Investors seek viable businesses that have traction in a well-defined core market, or at least a strong beachhead. They are looking for loyal customers, a low customer churn, and a high rate of repeat purchase. These can be good indicators of a viable product or service. According to Entrepreneur magazine, a common factor among successful startups is that they are constantly seeking to satisfy their customers and the whole organization is aligned to this goal. So, the product or service needs to be designed with the customer's satisfaction in mind.
Further, it is essential that investors see proof that there is a large enough potential market for the product or service. Very niche products will not meet most VC company screens unless the market has a clear and significant gap. Remember that given the inherent risks and the low success rates, investors are unlikely to take a huge risk and will only focus on opportunities with a high return – a goal of a 10x return is not uncommon.
3. A Strong Team with a Solid Leader
The team, with a strong leader, is another top factor for investors and is a leading indicator that a business can succeed. The bottom line is that investors invest in businesses and the team.
Investors are looking for teams that are passionate and knowledgeable about their product, service and industry. They will be asking themselves the following types of questions of the leadership team and the CEO or Founder:
Are they experienced, either as entrepreneurs or within the industries they aim to serve?
Is the team fully committed?
Are they willing to listen and take advice?
Will they be able to find solutions or pivot if there are headwinds or roadblocks?
Do they seem calm and competent under pressure?
23% of start-ups fail because they did not have the right team in place so as a startup, the people you surround yourself with are critical.
4. A Detailed Business Plan
Developing a reasonably detailed business plan, at a minimum of three years, is an essential part of what investors evaluate. This plan should include:
An overview of the product or service with clearly articulated key differentiators as well as the major target prospect groups. Identify the target's pain points and articulate how the business solves them.
The plan to expand the organization, add marketing and selling capability, and improve the product or service (development, engineering, etc).
A clear outline of the market, competitors and the potential opportunity (both short term and long term).
An organization overview with key employees and any key relationships & partners, including both existing and future possibilities.
A financial forecast which uses existing trends and educated predictions and clear assumptions to show the projections of revenues, operating costs, cash flow, and the bottom line.
A summary identifying four to six main reasons why this business is an attractive investment.
Investors, particularly venture capitalists (VCs), are looking for companies that fit their investment philosophy and focus on areas where they have expertise. This means they're looking for businesses where they can add strategic value. This benefits the companies they back as investors since they can concentrate their mentorship and advice to industries where they have deep experience. Many investor groups build up their know-how and expertise in certain market verticals by engaging people with senior level experience in those verticals.
A final key element of the investment is the terms. Startups need to clearly communicate the following:
Overall valuation of the company, and on what basis that valuation was established.
The amount of funding being raised and, if applicable, the sources of those funds.
The type of funding (equity, debt, convertible debt, etc) and any associated dynamics (timelines, future expected rounds, etc)
Use of funds, which would likely include expanding the organization, adding marketing and selling capability, furthering product development, or similar examples.
Many startups fail in at least one of these areas, or don't present their investment terms clearly.
Based on decades of experience meeting entrepreneurs and reviewing investor presentations, these six areas continue to be what startups need most. In almost every initial meeting, a startup fails to meet at least one of these criteria, and almost immediately disqualify themselves. Entrepreneurs seeking funds should remember one key factor summarized well by Paul Graham, Founder of Y Combinator: "Investors are pinched between two fears: fear of investing in startups that fizzle, and fear of missing out on startups that take off."
If you are in the process of raising capital or seeking an exit in the future, fill out the form below and one of us will be happy to assist you through a complimentary consultation
Additionally, if your startup is in need of a freshly enhanced website before you begin seeking investors, download our go live checklist to find out exactly what you need to put in place.
About the Authors
Rahul Kapur has 40+ years of successful business experience spanning a variety of areas. As a business consultant, he provides companies of all sizes with his expertise in strategy development, M&A, new products & innovation, and data analysis and modeling. His experience includes Unilever, Dow Chemical and Aearo Technologies (now 3M). He is Managing Director of Icon Investment Partners, Chairman of Guilford Group, Managing Member of Ark Capital Investments, LLC, and Senior Advisor for &Marketing, Crossroad Transactions, and Quest Safety Products, as well as on the boards of several start-ups.
Jeff is the founder of Crossroad Transactions. He has over thirty years of experience in a variety of executive and entrepreneurial leadership positions, plus over 15 years of dedicated experience as in M&A. He has been Ernst & Young's "Entrepreneur of the Year" award winner for the Midwest Region and Founder of Inc. Magazine "500 Fastest Growing Private Company".
Jeff earned a BS in Marketing from the Kelly School of Business at Indiana University and he is a graduate of the Kauffman Foundation's FastTrac Entrepreneur Program. He is a lifetime member of the Institute of American Entrepreneurs..
Rajat "Raj" Kapur is the founder and Managing Director of &Marketing. He strives to provide growing businesses of all sizes unparalleled marketing strategy and execution services. Raj brings two decades of professional experience in marketing, sales, and strategy development experience spanning B2B and B2C Fortune 50, mid-sized, and startups.
About &Marketing
&Marketing provides the robust outsourced marketing department growing companies need without the high overhead costs of big agencies or full-time employees. Our variable model empowers businesses to reach their growth goals through access to the guidance and expertise of senior level strategists and a flexible execution team.