Redefining Customer Relationships: How Mid-Market Companies Can Emerge Stronger Post-Pandemic
Welcome to part two of a five-part series of articles on "Emerging Stronger Post-Pandemic," which has been specifically developed for mid-market companies. In the first article, we identified several key trends and discontinuities that have emerged from the pandemic (which smart business leaders will see as opportunities) and provided four areas that mid-market companies must focus on to not only survive, but thrive over the long-term. These four areas include:
Redefining the customer experience
The subsequent articles in this series will spotlight each of these core areas.
In this article, we focus on redefining the customer experience, which is the foundation of any successful business. Although some of the day-to-day anxiety related to the pandemic has begun to subside, great uncertainty remains. Based on our experience and research, we have identified five distinct customer trends that have resulted from COVID-19 – which we believe will have a long-term impact on business – and a corresponding action item for each. The action items can lay the groundwork for your company's unique customer roadmap, as you continue navigating the uncertainties of the pandemic in both the short- and long-terms.
Our new normal will be a series of 'new normals,' where change will be the only constant, and the definition of 'normal' will continue to evolve. To quote Jack Welsh, "Change before you have to."
Customer Trends & Business Actions
#1: Customers will continue to be uncertain and anxious → Build trust and deepen relationships
#2: Customer behaviors have changed and will continue to change → Weave a deep and ongoing understanding of your customers into the fabric of your business
#3: Technologies to better understand, serve, and adapt to customers are changing rapidly → Fast-track your implementation of customer-related technology
#4: The sales function is changing dramatically → Redefine the sales role
#5: Customers will gravitate toward brands who are taking a stand on social issues → Identify the causes that align most closely with your brand and stakeholders, and carefully craft your response
There is only one boss. The customer.
Want to understand if your setting yourself up to emerge strong post pandemic? Request a readiness assessment today and find out. 
Trend #1: Customer will continue to be uncertain and anxious
Action: Build trust and deepen relationships
Early in the pandemic, businesses were in "survival mode" – keep employees safe, sustain business operations, ensure liquidity, and protect revenue. The companies that survive long-term, though, will be those that execute the fundamentals of communication, even if those customers are not currently in "buying mode." This builds trust, and trust pays off.
Stay engaged. Even in the height of this crisis with limited operations, customer-first companies remained engaged with their customers. Beyond just 'selling,' you should update customers on the status of your business, provide content that caters to their specific needs, and proactively assure them that you're taking all COVID-19 safety protocols seriously. Communicate through multiple channels, such as individual phone calls, video chats, social media, and digital content. Distribute pulse surveys to understand customer needs and concerns. This is not the time to disappear.
As noted in Forbes, "The research is clear: engaged customers have a virtually unbreakable bond with the company or organization that serves them. They buy more of your goods and services. They tend to spend more per purchase. They are more tolerant of mistakes. And they sing your praises to others."
Communicate transparently. Let your customers know the steps you are taking to serve (and at times, protect) them. Customers empathize with and are understanding of brands facing a crisis, as long as you communicate with them honestly and in a way that feels "human."
"Operational transparency can fundamentally reshape the ways customers understand, perceive, and engage with the organizations that serve them. Transparency increases not only sales, but also people's trust and satisfaction." – Ryan W Buell, Harvard
Fully leverage technology tools. If you don't typically use social media, now is the time to start. Update customers and build your "voice" via LinkedIn or Facebook, and encourage engagement. Consider hosting virtual trainings, providing on-demand content, and creating interactive material such as videos, quizzes, and infographics. Also think about implementing customer portals to create a sense of community and increase the number of people talking about you and your brand. Peer support enables even more trust.
Ensure a full organizational effort. You can't limit communication responsibilities to marketing efforts and salespeople alone. Deepening customer relationships will require you to amplify all customer touchpoints, whether in-person or virtual. Your entire organization, including customer service, technical support, accounting, warehousing, and even manufacturing will need to keep customer needs and engagement at the forefront.
What Companies are Doing.
A top global B2B industrial manufacturer launched hundreds of virtual courses that targeted every level of the customer journey. They provided content for "breakfast, lunch, and dinner," across a spectrum of free informative webinars, technical courses for continuing education credit, and interactive Q&A sessions. Since customers were at home, they logged on in droves. Since launching, the sales team has reported renewed relationships with previously dormant prospects. Anecdotally, their strategy has already paid off handsomely.
Additionally, most banks, insurance companies, and other financial services companies are proactively communicating and even advertising their action plan for protecting customers and supporting them through these trying times. This has included sanitizing premises, reducing or eliminating premiums, delaying payments, and other similar activities.
Trend #2: Customer behaviors have changed and will continue to change.
Action: Weave a deep and ongoing understanding of your customers into the fabric of your business.
The degree of change already underway, along with health, economic, and political uncertainties, creates a new and unprecedented need to better understand customers: the way they now think and their new behaviors, needs, and constraints. However, according to Teradata, only 41% of marketing executives are using customer engagement data to build their marketing strategy. Active listening using customer analytics data, and anticipating where the customer is going, are critical.
There is little historical precedent, but companies do need to go beyond the traditional methodologies (especially digitally), widen their aperture by looking at the entire ecosystem, and build the capabilities (or outsource them) to enable deep market insights. The companies that use these approaches to predict what may change – and the scale of the change – will win.
Go beyond traditional VoC. The old model of "voice of the customer" as an occasional project – usually led by the marketing department – is outdated, because it is not nimble enough to adapt to rapidly changing market conditions. Speed of execution is paramount. Gone are the days of spending months perfecting a strategy internally versus experimenting quickly and failing fast.
Listen to customers and observe their behaviors in real time. Now is not the time to guess what they are thinking or what they need – you need to legitimately find out, absorb it, and react quickly but thoughtfully. Consider a "pulse" survey – a short, fast, and frequent survey that is simplified, does away with complex questions, and is intentionally designed to be done often. You can even identify emerging customer pain points that can become opportunities for you.
Importantly, study your competitors to identify significant changes in their activity. Are they adapting their messages to your customers? Or, are they quieter than usual? This may uncover opportunities to change your approach.
Many companies are also developing and adapting customer advisory boards, supplier councils, and formal and informal processes to gather quick market intelligence. Predicting and understanding how customer needs will change – and the scale of those changes – will enable you to pivot and adjust your marketing strategies quickly.
Interpret broader market insights. Engage the entire ecosystem and ask different questions. Beyond determining how COVID-19 has impacted your customers, find out how it's impacted their customers (or end users). What kinds of uncertainties related to health, economics, regulation, or politics apply to them? Project how this might change in both the short and long-terms as you develop your company's support plans.
To get a more complete picture, factor in how customers have been impacted by their broader ecosystem. In addition to customers, this includes their supply chain, their influencers, their regulatory situation, etc. Also understand what competitors are doing; good ideas can come from anywhere – even competitors.
Ultimately, based on these learnings, entirely new models for customer experience are likely to emerge in how you serve customers, develop products, adapt, and engage. The insights you gain may even help you identify new audience segments and influencers and solutions to meet their needs. This research is even more critical if your business touches healthcare, sports and entertainment, restaurants and retail, safety, and other industries impacted the most by COVID-19.
Understand and adapt to the new customer journey. Given the degree of change that is happening, the customer journey, and the ways in which your customers experience your products and services, have most certainly changed and will continue to do so.
Once mapped and understood, your customers' experience can then be monitored and updated as you navigate through a series of "new normals" in the future. We've included a sample customer journey map for the purchase of a car, where the buyer goes through these similar steps.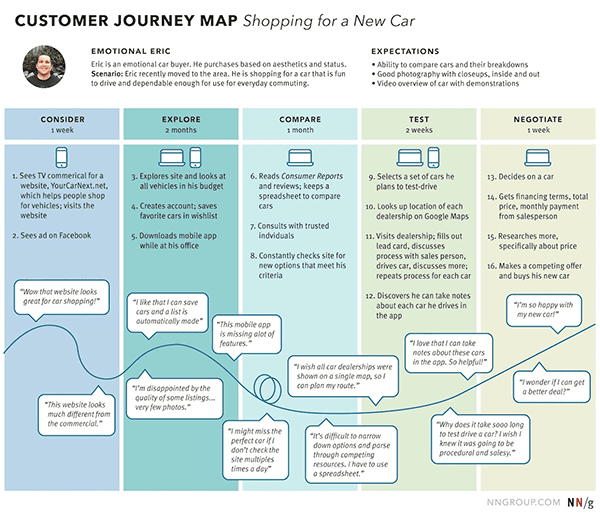 "Sales and marketing, now more than ever, are about customer experiences. Businesses that are currently looking at every customer interaction and identifying how they can make those experiences better are going to win. The customer experience is the next competitive battleground."
Trend #3: Technologies to better understand, serve, and adapt to customers are changing rapidly
Action: Fast-track your implementation of customer technologies
Technologies that seemed cutting-edge yesterday will be mainstream in the new norm. Technology adoption and consumer behavioral changes typically follow a standard adoption curve, but these are not normal times. COVID-19 has been an unexpected catalyst for permanent change, causing a surge in e-commerce, disaggregated supply chains, and accelerated adoption of virtual reality.
For B2B companies, digitizing their sales process, invoicing, and customer service may have been a lower priority just six months ago, but this is no longer. What's more, consumer expectations (think Alexa, Siri, Fitbit) are spreading into the B2B world. The winners will be agile companies who adopt these technologies, build best practices, and create a simpler and more efficient digital customer experience. This will have a step change-impact on the customer experience and innovation.
Embrace technology trends. We have already seen data that suggests mid-market companies are shifting their spending towards technology, as a vast majority of executives surveyed in April expect an increase in virtual events, web content, and webinars. Digital interactions with customers, suppliers, and employees will become the norm, as historical thinking and psychological barriers are dropping quickly. These capabilities include much more than CRM and e-commerce; companies need to embrace consumer analytics, artificial intelligence, augmented reality, IoT, mobility, learning platforms, and of course, all the new challenges in cybersecurity.
Years have become months, months have become weeks and weeks become days..
To the surprise of many, jobs that were previously "impossible" to do remotely survived the transition unscathed, both for companies and their customers. Accelerating your adoption of these technologies has the potential to impact the customer experience like never before. If you don't, you risk getting left behind.
In April, the World Economic Forum identified 10 major trends impacted by the pandemic and, to remain competitive in post-COVID-19 world, encouraged companies to "build the necessary infrastructure to support a digitized world and stay current in the latest technology." Which of these trends impact your business? How are you planning to not just keep up, but stay ahead?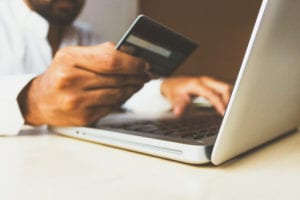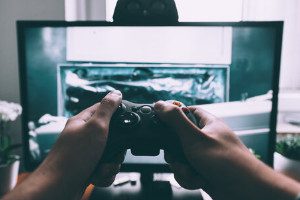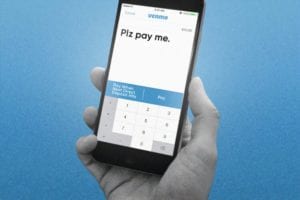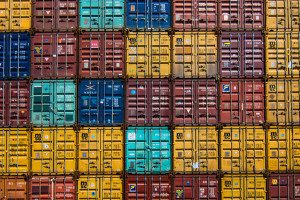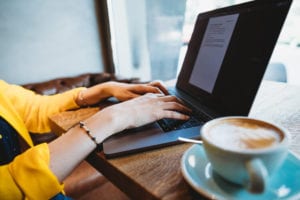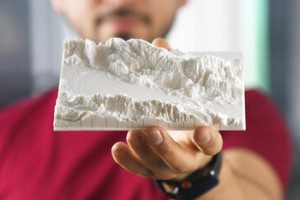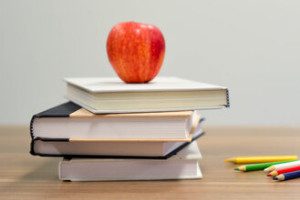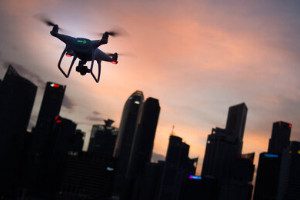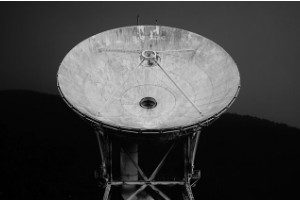 Communications Technology
Recognize the Revolution. Klaus Schwab, Founder and Executive Chairman of the World Economic Forum coined the phrase "The Fourth Industrial Revolution," in his book of the same name.
"Of the many challenges we face today, the most important is how to understand and shape the new technology revolution, which entails nothing less than a transformation of humankind. We are at the beginning of a revolution that is fundamentally changing the way we live, work, and relate to one another… it is unlike anything humankind has experienced before."
Beyond everyday technological changes, we're seeing boundaries between the physical, digital, and biological worlds blur, as new models for ensuring a positive customer experience emerge. We saw this with the use of 3D printing, AI, and robotics to create COVID-19 masks, which was done not by Fortune 500 companies, but by nimbler small businesses, entrepreneurs, and nonprofits. The pandemic is accelerating this "revolution" due not only to technological advancements, but the necessity and confidence to move quickly and adapt.
Modernize Your Customer's Experience. Digitizing your sales process, invoicing, and customer service may have been a lower priority just six months ago, but this is unsustainable now given current events. In recent months, we've seen companies make significant investments in their digital footprints, including websites, social media channels, and customer portals. If you were not implementing these types of technologies before, now is the time; today's new customer – regardless of the industry – will expect the best experience.
Forge the CMO-CIO Partnership. To accelerate the use of customer technologies and quickly adapt in the new normal, marketing and IT must reimagine how they work together. For years, CMOs and CIOs have attempted to collaborate with the rise of big data, analytics, and digital transformation. However, this previously lacked urgency. CIOs – fresh off the battlefield of transitioning their organizations to a remote workforce – must now work closely with the marketing department to continue to serve and improve the customer experience. They must work together to build a capability of sustained change and agility: to understand, serve and impress customers.
Agility in the new normal will require rapid experiments and a "fail fast" mindset, which is usually not easy for either CMOs or CIOs, but is a necessity. Additionally, top companies will also need to make sure the resulting surge of data from these systems is analyzed and integrated. For many, the last few months have proven just how nimble organizations can and should be when they face a crisis.
What Companies Are Doing.
A cutting-edge healthcare company, which was leading the shift to "on-site" healthcare at corporate offices, was dramatically impacted by the shutdown because of remote work. Immediately, they switched to providing care by telemedicine, filling prescriptions virtually, and traveling to local neighborhoods to deliver care directly at patients' homes. They even announced a brand new partnership with a biotech company to enable at-home check-ins for clinical trial patients.
The home-delivery industry (i.e. groceries, furniture, and restaurants) has surged and there's been an explosion of innovative practices, such as robotics and other "no touch" delivery. These are becoming standard, as they make people feel safer.
Trend #4: The sales function is changing dramatically
Action: Redefine the sales role
With the accelerating pace of technology adoption, entire populations have changed their behaviors overnight, and many of these behaviors will stay. Many companies are asking sales people not to visit. It will be awhile before in-person conferences and trade shows – a major forum for interaction with customers – will resume, and will likely take even longer for companies to actually attend. Sales teams must modernize their approach, enhance collaboration both internally and externally, and rethink their strategy for the future.
Shift to "Social Selling." Social selling is the process of using digital networks to provide value, establish thought leadership, and nurture prospects and clients. In the new normal for B2B mid-market companies, in particular, the hub of this activity occurs on LinkedIn, augmented by interactive tools and online industry forums. Successful salespeople are no longer 'just selling online.' The impact of the pandemic has called for an entirely new and integrated sales strategy that empowers business development professionals with tools such as social media, blogs, email marketing, CRM, marketing automation, virtual meetings and webinars, and online chat functions. Online meetings are now the norm and barriers to attendance are low since travel and wasted time have been eliminated. This will enable your salespeople to more seamlessly connect online with targeted prospects, build relationships, and deliver the value that consumers have come to expect.
Ensure your team has access to the appropriate technology and, importantly, proper training. Recognize that, while a salesperson may be used to being independent and working from home, the customer's personnel may not.
Business development professionals had to pivot quickly because of COVID-19 – they had to figure out how to continue building relationships while working remotely. Those who survived and many who are thriving embraced the concept of "Social Selling" while working from home. Successful business development pros will continue these activites as a normal course of business. It's changed forever.
Become a True Partner. A Bain Study of successful B2B companies revealed that highly successful companies go beyond the price of entry and table-stakes to become a true partner and satisfy wider needs of their customers. The pandemic has made this mentality even more pressing. Highly successful companies will be more proactive in helping their buyers achieve success – they should provide critical industry insights (i.e white papers, case studies, webinars, etc), help buyers establish connections with other influencers, and enable unique capabilities which meet their end-users' needs.
Strengthen Collaboration between Marketing and Sales. Sales and marketing teams are too often at odds with each other, but collaboration is especially critical when a crisis has caused an uncertain, rapidly changing future. These functions need to work very closely together on digital lead generation, account-based marketing, content marketing, and sales materials. Ensure these two teams meet regularly, gather and share quantitative and qualitative data on leads generated from marketing activity, and measure success. Marketing creates "sales enablement." By providing them with market insights and tools, the marketing team equips sales with the foundational components needed to develop and execute a refined sales strategy. Sales in turn, helps keep marketing close to the customers voice.
An excellent best practice of sales and marketing collaboration is account-based marketing or "ABM," which uses highly targeted, personalized digital marketing campaigns to gain traction with specific accounts that meet certain criteria. With ABM, you map multiple decision-makers at each account, build relationships, and develop customized plans that enable them to meet higher-level business objectives, with you as a key partner.
Develop a future-focused sales effectiveness model. To meet the demands of the ever-changing customer experience, it's possible that a fundamental overhaul of your sales organization may be required. In many mid-market companies, this type of reset is long overdue, as only 55% of mid-sized companies are using any sort of sales model. Those that implement one typically enjoy, on average, a 15% increase in revenue.
The use of a sales effectiveness model, which "diagnoses" your sales organization, identifies gaps and opportunities, establishes metrics and benchmarks, and develops a path to increasing your company's capabilities, can put you on a path to becoming a winning sales organization in the coming years. Even if you do not yet fully understand how your customer behaviors will change, begin the process of rethinking your sales organization – its structure, hiring processes, compensation, deployment and coverage models, tools, and training. This will allow you to continuously test both the relevance and performance of your salesforce, as the new normal evolves.
What Companies Are Doing.
A B2B SaaS company re-trained its salespeople (who were relocated to their homes) to optimize their LinkedIn profiles, learn to network through digital platforms, and conduct outbound calling campaigns, in an effort to make new relationships and keep in touch with current customers.
A mid-sized foodservice company, whose salespeople had previously only used trade shows and industry events to build relationships, implemented a new CRM, created thought leadership content on its website, and executed targeted lead generation programs via email, social media, and Google Ads. This resulted in dozens of new opportunities
Trend #5: Customers will gravitate toward brands who are taking a stand on social issues
Action: Identify the causes that align most closely with your brand and stakeholders, and carefully craft your response.
As the pandemic spread, every interaction changed overnight, with a major focus on human connection and empathy. "Getting down to business" was initially frowned upon, and conversations almost always started with personal rapport. Safety was always an important issue to a handful of companies in certain industries, but suddenly all customers and employees came to expect a heightened level of scrutiny on health and safety. And many companies are responding.
Societal issues, like sustainability and equality, are also top-of-mind for many, and companies are focusing on how to leverage these trends with the right products and services. The expectation on businesses to respond to social causes has significantly changed over the past decades. For mid-market companies, our advice is to choose carefully, rely on experienced hands to guide your approach, and think globally.
Choose Your Causes Carefully. You don't need to take a stand on every issue. Instead, pick what's relevant to your stakeholders (customers, investors, and employees). Understand what they hold dear.
Choose Your Words Carefully. The Public Relations and Communications function has become more important for mid-market companies. Having a crisis communications solution at the ready serves many purposes, and will enable you to be prepared to respond to "hot" topics that impact your customers and stakeholders.
Think Globally. If you operate in multiple countries, remember that these are not U.S. centric issues alone; most have a global impact. When communicating your position around a particular social issue, consider how your messaging may (or may not) resonate with other cultures that impact your business.
What Companies Are Doing.
In the last decade, many companies have taken up the sustainability challenge and are now providing products and services that better align with this societal expectation. Patagonia is a great example of shifting away from natural "down" and taking the stand that, "At Patagonia, we appreciate that all life on earth is under threat of extinction. We're using the resources we have—our business, our investments, our voice and our imaginations—to do something about it."
Famously, Nike ran a major ad campaign with controversial football player, Colin Kaepernick. Despite initial backlash, the business results spoke for themselves, as Nike's online sales grew after the campaign. Notably, Nike's motives were called into question on the Kaepernick campaign: "When for-profit enterprises insert themselves in issues like these, they invariably raise questions about their motivations and how much of the spotlight they should or shouldn't take."
In Conclusion
Bain said it well in a recent article, "Preparing for a Post-Pandemic World," asserting that companies will have to "reintroduce" themselves to customers because their "needs may be dramatically changing." Leaders at mid-market companies will need to listen to their customers, develop insights through fast market research, and learn from what competitors are doing. It will be a journey; be resilient and adapt as you go.
As you redefine your relationships with customers, remember the entire ecosystem has changed for both your customers and your customers' customers. In some cases, the pandemic has impacted every level of a company's network of suppliers, distributors, customers, end users, competitors, and regulatory influencers. Understanding how your customer's world has changed – and responding accordingly – will be the basis for success in the "new normal." Sales and marketing are no longer about simply providing products and services. The businesses that win will optimize every customer interaction and experience.
In a recent &Marketing webinar we dive deep into the resulting business trends from COVID-19 and the necessary actions mid-market companies should take to build and sustain long-term growth. You can view entire webinar below. 
About the Authors
Rahul Kapur has 40+ years of successful business experience spanning a variety of areas. As a business consultant, he provides companies of all sizes with his expertise in strategy development, M&A, new products & innovation, and data analysis and modeling. His experience includes Unilever, Dow Chemical and Aearo Technologies (now 3M). He is Managing Director of Icon Investment Partners, Chairman of Guilford Group, Managing Member of Ark Capital Investments, LLC, and Senior Advisor for &Marketing, Crossroad Transactions, and Quest Safety Products, as well as on the boards of several start-ups.
Robert Olsen is a Marketing Expert, Speaker and Consultant with a unique combination of Management Consulting and C-suite experience in chemicals and life sciences.  He is an experienced Chief Marketing Officer, and has also served as Corporate Marketing Director at DuPont and a Strategy and Operations Consultant at Deloitte.  Robert helps companies grow, utilizing his expertise in marketing, sales, and innovation to navigate major changes and new programs including M&A, brand building, and culture transformations. Robert is passionate about creating a better customer experience and employee culture to drive business results.
Rajat "Raj" Kapur is the founder and Managing Director of &Marketing. He strives to provide growing businesses of all sizes unparalleled marketing strategy and execution services. Raj brings two decades of professional experience in marketing, sales, and strategy development experience spanning B2B and B2C Fortune 50, mid-sized, and startups.
About &Marketing
&Marketing provides the robust outsourced marketing department growing companies need without the high overhead costs of big agencies or full-time employees. Our variable model empowers businesses to reach their growth goals through access to the guidance and expertise of senior level strategists and a flexible execution team.
Are you facing challenges of your own in generating leads and meeting your business' growth goals?
We'd love to learn more about your challenges and how a coordinated marketing approach might help take your organization to the next level.