6 Influencer Marketing Tips for Small Businesses
When we think of influencer marketing, large established brands collaborating with high-profile macro-influencers often come to mind. But how does influencing work for the rest of us? Roughly 30 million small businesses make up 99% of the total firms in the US.  These businesses don't have celebrity endorsement-sized budgets!  Should the small players still engage in the game of influencer marketing? Perhaps!
Certainly, a company should not buy into the fallacy of implementing whatever flavor of the month marketing tactic is buzzing around. Likewise, they should not fall for the myth that they can't participate in modern marketing strategies just because they're not Pepsi Co. Influencer marketing could fit into your small business marketing strategy and be very successful. Based on our recent experience helping smaller brands build and implement influencer marketing programs, here are a few tips to get you on track:
The first step is to determine if influencer marketing is right for your unique business. Consider your specific market and ask key questions such as:
Who are your customers/consumers?

Do they engage online?
If so, where do they engage online? What platforms/forums?
Is your business B2B or B2C (or both)?
What is unique about your industry?

What part of that industry are you in (what niche?)?
Are there already influencers in this space? What are they doing well?
After putting yourself in the shoes of your audience, you can better understand how they make decisions and where they seek advice or inspiration for purchases. Influencers may or may not be in the purchase process- it's all about context. For example, if you are a small B2B manufacturing company with minimal digital touchpoints, a niche consultant or spokesperson could increase your brand exposure. If you are a small suburban medspa whose business largely comes from referrals or word-of-mouth, influencer marketing could revolutionize your marketing strategy.
If influencer marketing could benefit your business, establishing your goals will help formulate your unique campaign. Depending on what you aim to achieve, the types of platforms you utilize and the relationships you build will vary widely. Consider the following:
What do you aim to achieve?

Leads, sales, brand awareness?
Promotion of a new product?
A sale, contest, or discount?
Awareness of a product entering a new market or industry?

How will you measure success?
How will you track influencer activity?
If your upfront goals are not clear, and you don't have a measurement plan in place, there's a high likelihood that you won't know if your influencer program is successful.
You've decided that influencer marketing could improve your business and you have established clear, specific baseline goals. Now what? The good news is you may not need to look too hard to find influencers!
First, check your own backyard. Identify those individuals who are already engaging with your company or brand- these are your advocates. Next, establish the program and lay out what's in it for them, and you.  Keep in mind that influencer compensation is largely a grey area. Many of these individuals are not 'career-influencers'- they genuinely enjoy your product- so leverage that! In exchange for free product or other perks, your loyal brand advocates may be excited to continue to tell their networks about your awesome brand. Finally, a well-established Brand Ambassador Program could drive consistent content on a regular basis over the 'one-and-done' collaborations.
After you have fully exhausted your 'free' influencer options (i.e., the brand ambassadors), consider taking the next step in the influencer 'pyramid'.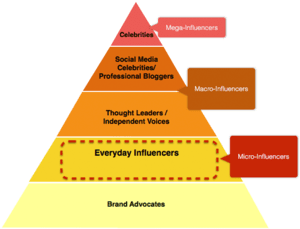 Micro-influencers with slightly larger followings are everyday consumers who have 500-100,000 followers and may or may not require compensation. However, studies show that micro-influencers actually receive 60% more engagement compared to larger macro influencers.
A great rule of thumb is to identify these micro-influencers in your niche/geography using the following resources:
Google

Popular hashtags in your industry (if Instagram or Twitter are common in your industry)
Thought leadership (articles, publications, blogs)
Niche podcasts
Trade Shows
Search your competitors' followers- these individuals are interested in your industry
Use an influencer marketplace/database, many of whom offer free trials. Examples include

Izea

and

Onalytica

, to name a few.
Once you have identified those micro-influencers you wish to work with, build genuine relationships! You can-
Send free product/offer free or discounted services
Engage with their content on social platforms

Comment on their latest posts
Read blog posts and provide thoughtful responses

Introduce yourself at a tradeshow! John Hall, CEO of Influence Co, recommends  ,"Be memorable and be helpful. Maybe feedback on a part you liked in the speech or mention using them in a blogpost. #givefirsttakelater."
Allow THEM to bring ideas to you that you may not have considered. This is a partnership!
Finally, as with many internal initiatives, ensure that there is adequate internal support. Consider the following key questions:  
Who will do the work on your team?  

Who will approve activity? budgets?

How long will the team have to show results?
Planning, executing, and tracking progress of these programs takes effort, especially with smaller teams and finite resources.
There's no denying that influencer marketing is here to stay, and companies and marketers that leverage these tips are reaping the benefits… even without  Fortune 500 marketing budgets!
About &Marketing
In today's fast paced world, many growing businesses are struggling to modernize their marketing approaches because either they don't have the expertise or the bandwidth to do it themselves.
&Marketing provides seasoned marketing strategy professionals and a nimble execution team to help our clients achieve their goals. Our unique partnership model allows us to augment our client's existing teams or outsource the entire marketing function in an affordable, flexible, and transparent way.