Want to Become a Smarter Marketer? Try These Three Analytics & Business Intelligence Tools
Now more than ever, marketers have a wealth of tools and data designed to help us not only understand our audience better, but uncover where that audience is living online and what they are actively searching for. This knowledge is vital for marketing strategies designed to meet overall business goals.
Yet, with all this information on-hand and all the tools available to mine that data, many companies today are just revising marketing efforts made popular in the late '90s and early '00s; which relied on broadly plastering your message or creative assets to as many people as possible and see what sticks.
While you might generate some leads and back into your business goals with this approach, you'll likely just be wasting time and money when you could be working smarter, not harder.
However, with all of the tools and data out there, it can be overwhelming or down right impossible to even know where to begin and how to leverage all of these glorious resources. Therefore, we're going to help you find the elusive needle in the hay sack and show you three tools &Marketing leverages to save time, stop guessing, and still generate big results for our clients (and ourselves).
3 Analytics & Business Intelligence Tools to Help You Become a Smarter Marketer
What is it?: Get measurable results from online marketing. Do SEO, content marketing, competitor research, PPC and social media marketing from just one platform. Data is good. Strategy is better. SEMRush gives you both. SEMRush knows a lot about your market and website. It gives you access to the world's largest database of 20 billion keywords, 310 million ads, and 17 billion URLs crawled per day ("crawled" is a little jargon that means discovering and indexing content) .
But you get more than just numbers. SEMRush analyzes the data for you and gives you instant recommendations on SEO, content marketing and advertising that can help you improve your online visibility in days.
What it's good for: SEMRush is great for obtaining a full listing of organic keywords that you and your competitors rank for, as well as an idea of how much traffic those terms bring to your site. SEMRush also breaks down competitors' PPC efforts and acquisition sources. Additionally, SEMRush has recently rolled out a new feature that breaks down keyword intent, which will help you understand the gaps in your content. Lastly, SEMRush does a great job of auditing your website to identify SEO errors and challenges.
How we use it: &Marketing uses SEMRush to back up our organic data, analyze competitors organic and paid search presence research, as well as technical SEO website audits.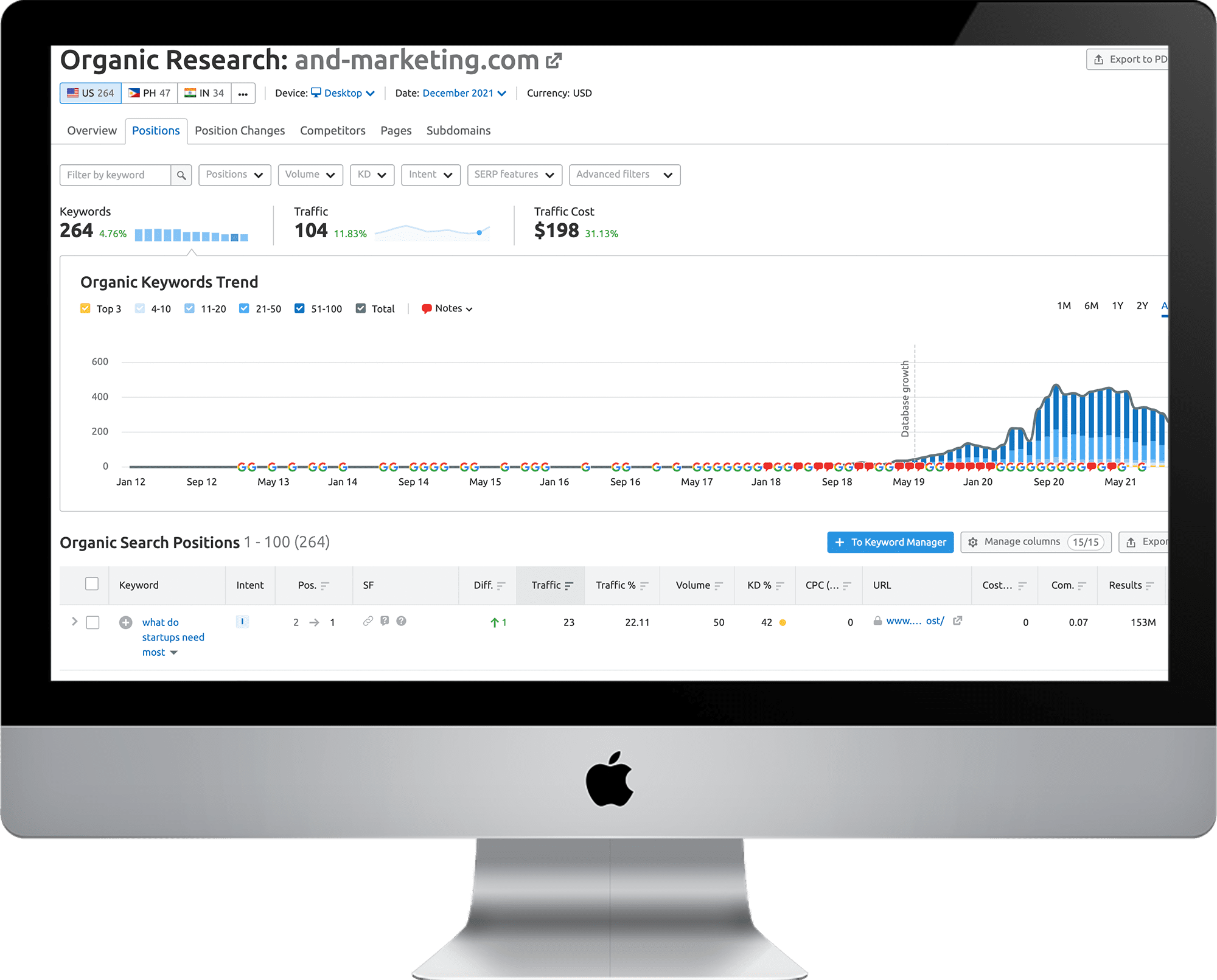 An example of a SEMRush Search
What is it?: Google SERP (Search Engine Results Page) tracking for anyone! With large-scale rank tracking and SERP analytics, you're always the first with the answer to what's happening on the SERPs. Not only will you be able to generate and monitor organic results, you'll be able to uncover unknown competitors, content topics, related terms, and more!
What it's good for: GetStat, founded by Moz, is an excellent tool to track keywords you currently rank for and to generate high level insights on the domains that are ranking for them and all of their related searches…at scale. Imagine having to look up 100 keywords and determining how many related searches there are for each one, how many questions people are asking about each one, and what the top 20 domains that are ranking for each one. GetStat gives you all of that data at scale.
How we use it: GetStat is a great tool to track and monitor keywords we're looking to target. Additionally, GetStat allows us to generate reports, at scale, of the Top 20 listings, all of the People Also Ask questions (that little box on the first page of Google that tells you what else people are asking about a search query), all of the related searches, and all of the SERP features for ALL tracked keywords.
An example of a Top 20 Dashboard report from GetStat
What is it?: Audience Research. Solved. Forget expensive surveys or inaccurate, manual research. SparkToro finds the websites your customers visit, social accounts they follow, hashtags they use, and more — so you can actually get to know your target audience and do marketing that works.
Over 1,100 marketing agencies, content teams, PR leaders, and market researchers use SparkToro.
What it's good for: SparkToro is an excellent resource for audience research. Simply type in a phrase that users have in their profile or commonly use, or a website they frequently visit. Then you're able to uncover demographic information about people who fit that profile, websites they visit, podcasts they listen to, social accounts they follow, and press accounts they trust.
How we use it: We use SparkToro for audience research on our key decision makers. This tool helps us find commonalities in demographics and information consumption across multiple decision makers and helps us form strategies to best reach those audiences.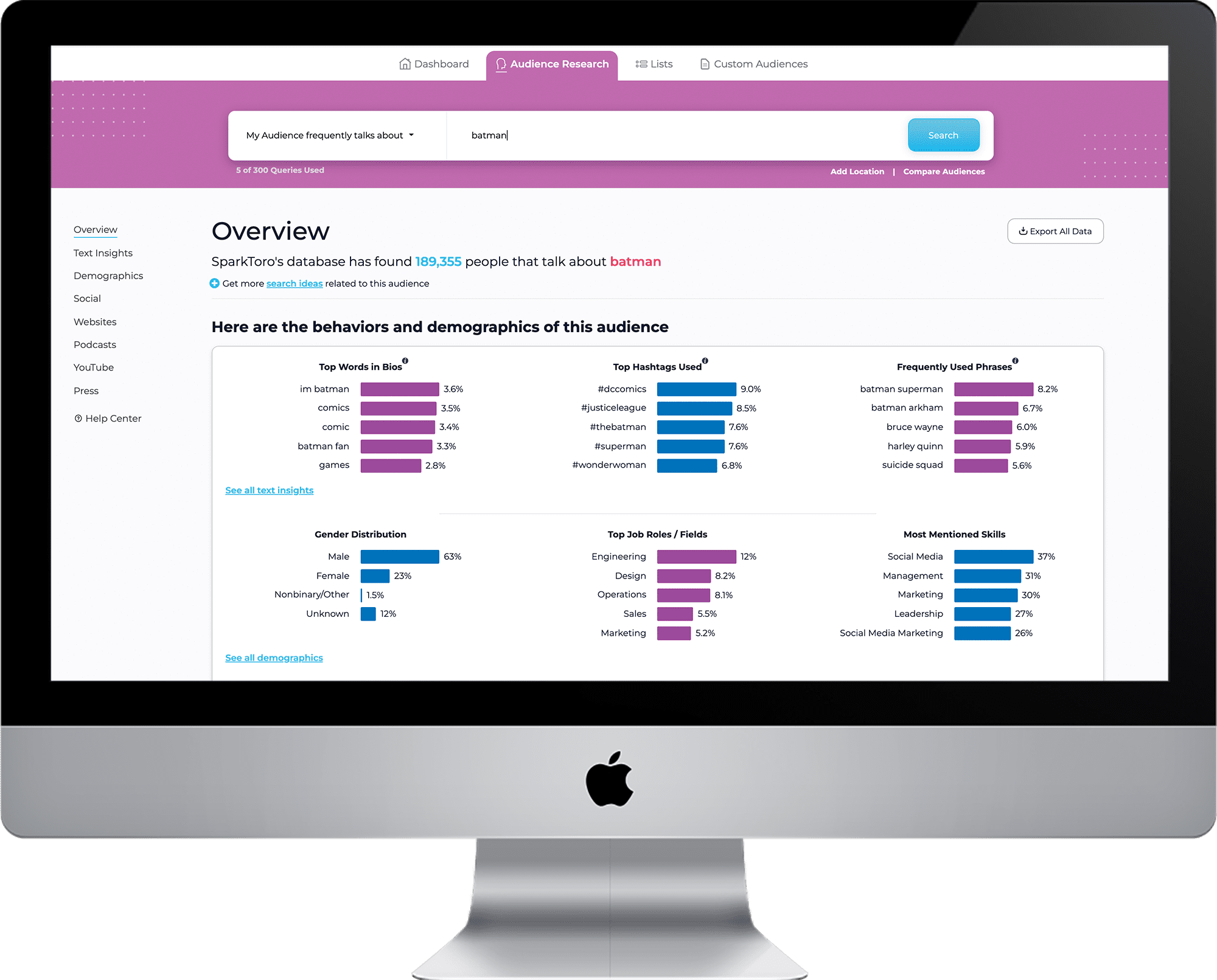 An example of a SparkToro Search
Data That Helps Uncover Effective Marketing Strategies
These are just a few of the tools we use when we perform a comprehensive Business Intelligence project. The best thing about these tools is that they allow us to export data that can be aligned with one another in data visualization programs like Power BI or Tableau. Once we have all of our data, we can develop dashboards within Power BI or Tableau, that allow us to easily navigate it and help us uncover powerful insights. No more messy excel files and pivot tables and VLookUps. Just clean, easy to read dashboards with data sets that can interact with one another and be easily mined. These insights inform the creation of a successful marketing roadmap so we know the exact steps to take to help our unique clients reach their business goals.
Example of an eCommerce Dashboard
Interested in learning more about our Business Intelligence and Analytics practice and how it can help drive your business and marketing strategy? Check out our Business Intelligence eBook to understand how this powerful process can grow your business.
About the Author
Marketing Director Paul Ferguson helps clients develop fully integrated marketing solutions that make impressions and drive results. Whether it be design-oriented campaigns or digital market execution, Paul skillfully creates strategies to effectively reach client's desired audiences. Follow Paul on LinkedIn.
About &Marketing
&Marketing provides the robust outsourced marketing department growing companies need without the high overhead costs of big agencies or full-time employees. Our variable model empowers businesses to reach their growth goals through access to the guidance and expertise of senior level strategists and a flexible execution team.
Are you facing challenges of your own in generating leads and meeting your business' growth goals?
We'd love to learn more about your challenges and how a coordinated marketing approach might help take your organization to the next level.